31 Days of Celebrating Real Life [10/20/15]
I've got no photo tonight. I'm actually surprised that it took two-thirds of the month for that to happen. I almost forced myself to take a photo anyways, but I decided to show myself some grace and have a photo-less post.
I'm currently sitting on the new couch in my special room that's cozy and just for me. I've been craving my own space, I touch by little fingers and toys and today is the first day I've got it. It feels amazing.
We've only been in our house for twoish months and there are still some boxes to be gone through (not including the disaster that is also known as the basement), but I'm learning that making space and time for myself needs to be a priority.
Real life is that I'm a widow and a mom. I have the full time job of raising children and the full time, albeit subconscious, job of grieving. There's a constant tension between the two and I seldom feel like I can truly relax or rest. This space (I may even go as far to call it my sanctuary) will provide a quiet retreat when I get a few moments to myself.
Thankful for how this place is becoming our home.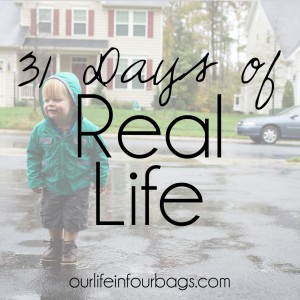 [click image for more in this series]
---
I'm so excited that the 31 Days team has put together a $500 shopping spree with DaySpring so you can add some of the Daily Grace collection to your home, too.
[enter the giveaway here]
Get 3 Truths (And A Lie) for when life is ridiculously hard