31 Days of Celebrating Real Life [10/27/15]
This silly tiger costume became a source of anxiety today. When I was pregnant with Libby, Keith and I had an amazing Halloween costume revelation. I've been looking forward to putting it into action ever since, but I couldn't find this costume in any of the boxes. I must've gone through every box in the basement two to three times and ended up dangling head first into a huge wardrobe box with my feet in the air, but I found it. As I was losing my mind looking for it, I kept telling myself that it wasn't worth the anxiety: isn't this exactly why Amazon invented two day shipping?
But anxiety and grief don't work that way. You can't tell anxiety to just go away. You can't reason with grief or tell grief that it has no significance. This afternoon I battled with both over a tiger costume: my anxiety could not handle the frustration of the lost object and my grief was overwhelmed at the thought of not being able to follow through on the costume idea.
For a moment, I tried to convince myself that it was okay to give up. And then I reminded myself that if I needed to empty every box in order to grieve the way I needed to grieve, then I needed to keep looking. We often try to force grief to happen in a prescribed, predictable manner. I've learned that I need to be more flexible and gracious to myself.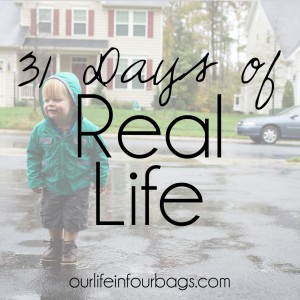 [click image for more in this series]
---
I'm so excited that the 31 Days team has put together a $500 shopping spree with DaySpring so you can add some of the Daily Grace collection to your home, too.
[enter the giveaway here]
Get 3 Truths (And A Lie) for when life is ridiculously hard