31 Days of Real Life [10/31/16]
Halloween. An exciting day for the kids, but a hard day for me. Dad died four years ago. It's hard to wrap my mind around that reality. I really struggled this year, missing him in so many ways. He would've been best buddies with Caleb and I don't think he would've ever stopped laughing at Libby.
It's been so hard to figure out widowed life without my dad. Countless times I've wanted his help to problem solve a parenting issue or think through a major decision. He always helped me keep perspective and his hugs were the best ever.
Just like it's hard to explore what it means to be a mom without being a wife, it's hard to know how to parent kids without a dad when I don't have my dad, either.
Clearly, the kids had fun trick or treating. It really is helpful and healing to see the joy they experience even when I'm feeling stuck in a cloud of grief. I'll probably always struggle with the timing of their birthday's but I'm immensely grateful that they feel the lightness and freedom of childhood.
---
Follow the series: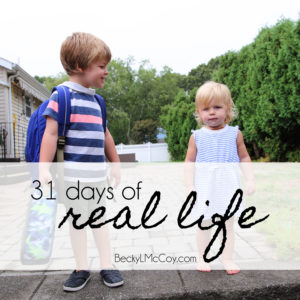 Subscribe to get weekly summaries directly to your inbox.
Get 3 Truths (And A Lie) for when life is ridiculously hard