31 Days of Real Life [10/9/16]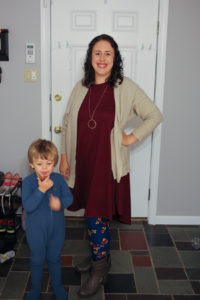 Before I get serious, can we just talk about my love of LuLaRoe? I seriously wear at least one piece a day. I've always required my wardrobe to consist of clothes that are soft and comfortable but look nice and put together. LuLaRoe hits the nail on the head. So today I wore my LLR leggings and a maroon Carly dress with some grey booties and my cozy Target sweater. It was easy enough to dress up with earrings and the Freedom necklace from Karama.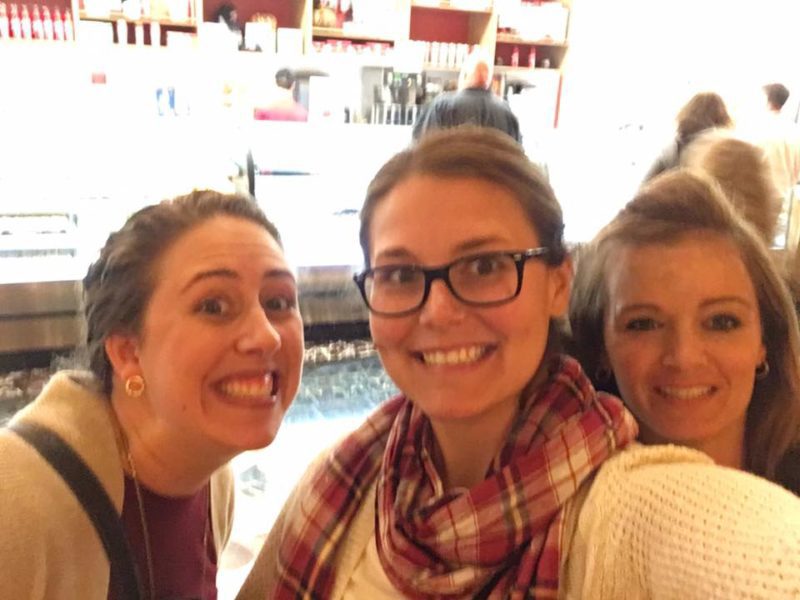 It's been a long day. I was out of the house early for band practice at church. I started playing keyboard once or twice a month, which has been really wonderful. About a year ago, I decided I wanted to get involved in something that hadn't been part of my life since before Keith. We didn't have a piano for most of our life together, so I really haven't played much in the last 10 years. It's a joy and therapy to play regularly and relieve stress and tension in a creative and musical way.
The kids both had colds, so they stayed home with my sister. On the way to church, my low tire pressure light popped on. I had noticed this week that my tires looked low, but had forgotten to check. So, after church, I pulled into a gas station to fill them up, thankful that I didn't have the kids and that, even though it was raining, it would be a quick and easy fix. Except, it wasn't. The air hose was letting out more air than it was putting in and I was getting increasingly discouraged. Just before I gave up and sat, crying in the rain, I realized I was hungry and exhausted. My tires were low enough that I really shouldn't have been driving on them, but I wasn't going to find a solution in my current state of low patience as well.
I made it home safely, ate lunch, and took a nap. It's amazing how some food and rest can boost your mood and attitude. I was feeling better, but still marginally defeated. I'm an educated woman who has put air in tires plenty of times. It's probably the easiest car-related task. It shouldn't have felt so impossible.
But that's what grief does. It takes mundane, ordinary tasks and turns them into obstacles.
I'm grateful to have so many friends that help break down the barrier that give me so much frustration. Two friends and I had already planned a night out for tonight and another friend offered to babysit. While we were at dinner, a friend's husband filled up the tires for me. It's easy to feel humiliated that I couldn't complete such a simple task on my own, but having friends who are willing to relieve me of even the smallest burdens is a gift.
I posted this quote from Brothers Grimm on social media this morning and it proved itself over and over again today:
It is when we are most lost that we sometimes find our truest friends.
I'm going to bed so thankful for the people that help lighten the load of widowhood and single parenting. Community finding and building is hard work and often discouraging. But I've found that having a community of authentic, trustworthy, compassionate people is the only way to make it through the harder seasons of life.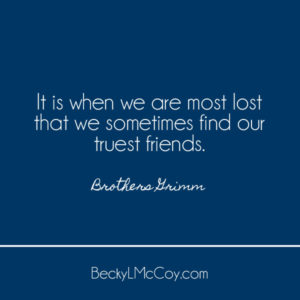 ---
Follow the series: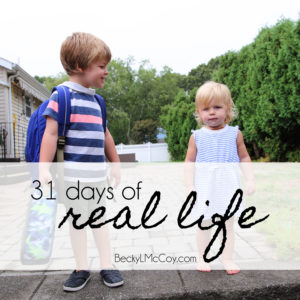 Subscribe to get weekly summaries directly to your inbox.
Get 3 Truths (And A Lie) for when life is ridiculously hard