I love sharing what I'm loving with my people. So…each week I share four things I'm excited about: books I love, TV, music, recipes, moments in life, etc. Life can be hard, so it's important to celebrate all the little things!
---
1 Andra Day on Spotify
Oh my word. This girl can sing. And all the lyrics and instrumental parts of each song are brilliant, too. I discovered her while making the BRAVEtogether playlist, but today I spent a good two hours getting a ton of work done just listening to the Andra Day channel!
2 Rifle Paper Co. Planner
I discovered the Rifle Paper Co. planner long before I realized how gorgeous all of the company's products are! I love how each page is set up so I can keep track of my schedule and to dos side by side. Plus it's cute. And this year I got a matching water bottle. This might be turning into an obsession.
3 GenM
This summer, a friend told me about GenM and it's been a game changer. You get a marketing intern to work with for 3 months and they agree to work for 10ish hours per week. I was able to hand off a lot of content creation and still keep up with other work. And it's so reasonably priced for the amount of work they're doing! My intern was so awesome, I offered to keep her on after the internship!! Sign up through this link and get 50% off your first month! 
4 Sermon Series on Suffering
I don't often share sermons on social media or here because I know that everyone has different beliefs, but I can't not share this one. People have all sorts of ideas when it comes to suffering and this series of four sermons has been so life giving. The first sermon is on suffering that happened in the past, the second on the suffering of the present, the third on the suffering that will probably happen in the future, and the fourth on how to love on and help the people you love who are suffering. I've never heard such practical advice, compassion, and vulnerability when it comes to discussing suffering, grief, and pain in church. Listen to Shoreline Community Bible Church's series Every Tear & Trial.
---
Is life a little rough right now and you wish you had someone following you around, encouraging you, here's the next best thing. Print it out and hang a copy everywhere you need to see it!
3 Truths (and a lie) For When Life is Ridiculously Hard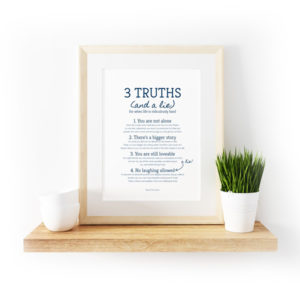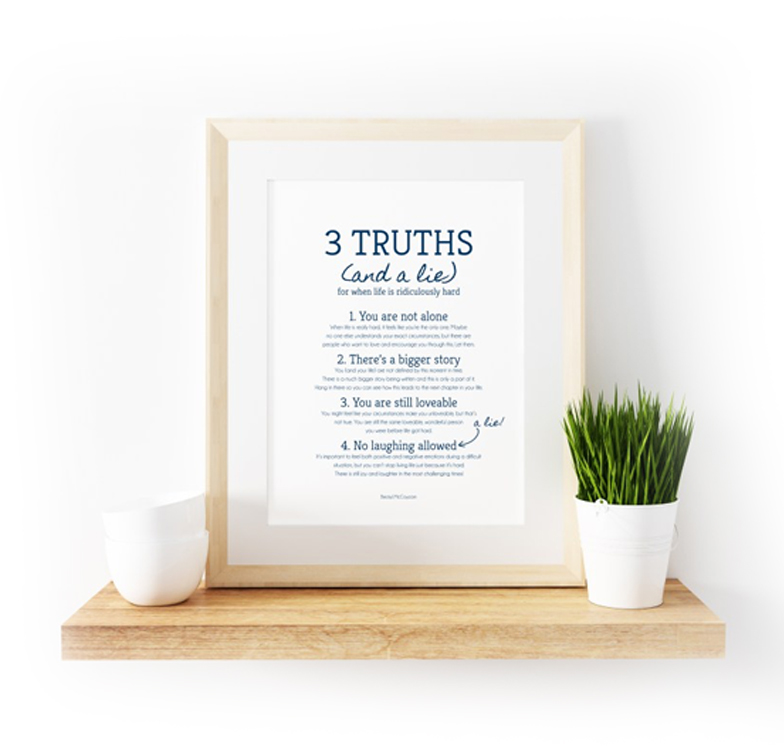 Get 3 Truths (And A Lie) for when life is ridiculously hard