I love sharing what I'm loving with my people. So…each week I share four things I'm excited about: books I love, TV, music, recipes, moments in life, etc. Life can be hard, so it's important to celebrate all the little things!
---
katrina makes
My friend Katrina of Katrina Makes does GORGEOUS watercolor work. Her shop has paper goods for parties, personal stationery, and wall art. She's done all of the artwork for the BRAVEtogether virtual retreat and live events. Check out Katrina's shop and leave her some love!
birthdays
My sweet girl turned 3 this weekend. Birthdays are rough for me; the grief hits hard and I find myself unable to think straight or keep track of details. BUT, birthdays are fun and when I'm sad, fun is AWESOME. We had pizza and ice cream cake and didn't do very much out of the ordinary. And it was perfect.
iola magazine
Check out this brand new publication! It's GORGEOUS and it's created by a friend of mine. I'm super excited to get my copy. It features words, photos, and other creative works from incredible women from the US, Canada, and the UK and you're going to love it. Get your copy and check out pg. 25 for a piece by yours truly 😉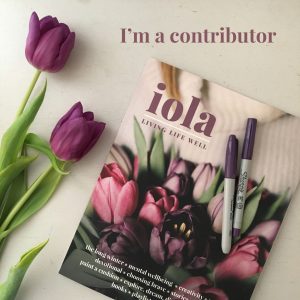 gone girl
Piggy backing off last week's 4 things, I decided to try the book Gone Girl by Gillian Flynn. IT WAS SO FREAKING GOOD. I hadn't seen the movie because those kinds of movies are just way too much for me, but I thought the book might be okay. IT WAS AMAZING. Seriously. I mean, holy plot twist batman. If you like smart books, read this.
---
Need some encouragement on rough days? Download this and wallpaper your house with it. I'm not even kidding. BeckyLMcCoy.com/3Truths
Get 3 Truths (And A Lie) for when life is ridiculously hard