I love sharing what I'm loving with my people. So…each week I share four things I'm excited about: books I love, TV, music, recipes, moments in life, etc. Life can be hard, so it's important to celebrate all the little things!
---
The Dream of You
Jo Saxton's new book The Dream of You is rocking my world. It feels like Jo has me in a giant bear hug as she helps me to remember who I am. I just love the heart behind this book: who was I before I listened to who anyone else told me who I should be? Just in the introduction alone, is this gem:
When you are uncertain about who you are, you will believe — wrongly — that your value has to be earned. You will try to prove your worth through achievement. Your identity will be held in place by a fragile truce that comes with burdensome conditions, instead of a lasting peace and contentment that grounds your life. You will rely on the recognition and applause of others to center you and provide affirmation.
Boom. See?! You need this book. Jo not only reveals the ache of my heart to live the fullest version of who I was made to be, but she holds my hand on the journey of rediscovering who that is.
Kid Account On The Computer
My 5-year-old is a super extrovert, so weekends and other days off school are rough for him and his introvert mama. So, I created a kid account on the computer in my office so he can earn computer time when I am desperate for some quiet. He only has access to Chrome and I bookmarked Discovery Kids, PBS Kids, and National Geographic Kids. I've caught him watching shows on giant snapping turtles and ancient Rome. It's pretty epic.
And I suddenly have time to get work done. Or read a book. Or take a nap.
Magic.
Spotify Playlist: The Piano Bar
I love having music going while I'm working or cleaning. Sometimes it's acoustic guitar or classical piano. But Spotify won my heart over this week with its jazz station The Piano Bar.
Yesterday I was reading a book (The Girl On The Train) with some coffee and this station playing. It was the most relaxing moment I've had in the same room with a 5yo and 2yo in a loong time.
The BRAVEtogether Community
I'm so happy to be part of the BRAVEtogether community on Facebook. It seriously brings my heart so much joy to be surrounded by so many brave women, even in a virtual space. We encourage each other through the hard stuff in life and giggle over the silly. It feels incredibly safe and intimate and I could talk about it all day long.
But seriously. You should join us. Ladies, only though. Sorry gents.
---
Need some encouragement on rough days? Download this and wallpaper your house with it. I'm not even kidding. BeckyLMcCoy.com/3Truths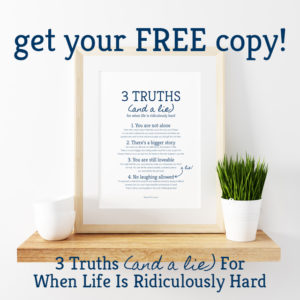 Get 3 Truths (And A Lie) for when life is ridiculously hard