I love sharing what I'm loving with my people. So…each week I share four things I'm excited about: books I love, TV, music, recipes, moments in life, etc. Life can be hard, so it's important to celebrate all the little things!
---
Real Conversations With Friends
Over the last few days, I've had a few really deep conversations with friends. Conversations about vulnerable things, about ways we're hurting, about theology and church history, about ways we want to live better, and about fears in relationships with each other. I am AMAZED at the women in my life and their courage to wade through these discussions with honesty and humility, determined to keep the relationship the most important thing.
P.S. I know not everyone has these relationships, but don't be discouraged. Just because you don't have these friends right now doesn't mean you never will. And if you're looking to make some of these kinds of friends, join me in the BRAVEtogether community on facebook; I am never not encouraged and inspired to live more bravely by these women.
This Post on Self-Sufficiency
My writer friend Jill E. McCormick wrote a post on self sufficiency this week called Why Self-Sufficiency is a Big Old Fat Lie. I love trying to be self-sufficient. It's so satisfying to say I've done it all. by. myself. Like a big girl. Ha! Mostly, though, I hate inconveniencing other people. Really hate it. I'd rather step in a puddle of pee than burden someone else.
But, like Jill says, self-sufficiency can be really ugly.
When we try to go it alone, the results can be disastrous. We avoid community because it seems too difficult, and we end up wearing our external mask of "fake fine," concealing the fact that our internals are frazzled and frayed.

The result of all this avoidance and mask-wearing is exhaustion. We're doing all the things by ourselves, so we're tired emotionally, physically, and spiritually…

…Having needs doesn't make us incompetent or weak – it makes us human.
Okay, Jill. I read you loud and clear.
What's one thing you/I/we could do this week to be less self-sufficient?
The Girl On The Train
I have to be careful when it comes to any movies in the suspense/thriller/murder mystery genre because they can trigger my anxiety in big ways. BUT, I tend to be okay with the books they're based on because they aren't visual, so I can only imagine so much. So, when I found The Girl On The Train by Paula Hawkins on my library's ebook site, I decided to give it a try.
I'm glad I read it. It's not a favorite and I doubt I'll read it again, but it was entertaining and really creative. I figured out the murderer before the end, but just barely. I love books that switch between different characters' perspectives and present day and the past and this book did both.
Speakers for the BRAVE together Virtual Retreat
I announced the speakers for the 2/24 BRAVEtogether Virtual Retreat in the BRAVEtogether community on facebook and I CAN'T STOP TALKING ABOUT THEM. These ladies are smart and inspiring and fierce.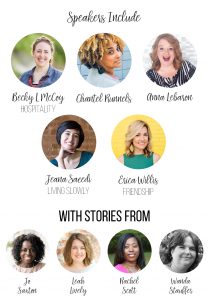 I just love that you'll hear from women who look different, live differently, and have wonderfully diverse perspectives on how to live bravely.
I hope you'll join us (from your couch) on 2/24!
THINGS I WANT YOU TO KNOW:
Ticket prices increase 2/1, so register ASAP!
If you can't make it, the playback recording comes with every registration, so register anyways!
This retreat is going to be seriously epic because you get to participate in your pjs!!!!!!! Find out more about virtual retreats and how they work.
---
Need some encouragement on rough days? Download this and wallpaper your house with it. I'm not even kidding. BeckyLMcCoy.com/3Truths
Get 3 Truths (And A Lie) for when life is ridiculously hard