I love sharing what I'm loving with my people. So…each week I share four things I'm excited about: books I love, TV, music, recipes, moments in life, etc. Life can be hard, so it's important to celebrate all the little things!
---
Goodness. This album is wrecking me. Musically, it's masterful. Lyrically, it gets straight to the heart of being human, wanting to connect with God even when he feels far away. Lauren Daigle's music usually sounds similarly to other worship albums, but not this one. This album is gritty and fun and I can't help but dance and sing along when it's on. All this to say, it's pretty much on repeat every time I'm listening to music these days! Get yourself a copy of Lauren Daigle's Look Up Child. You're welcome.
While you're at it, preorder Annie F. Downs' new book. Annie has always had a way with stories, but this one is something totally different in the best of ways. She's admitted in other books that she runs screaming from anything yucky or painful, but in Remember God she marches straight into it. She shares the weight of her pain, her losses, and her unmet dreams and expectations. I got an early copy of the audio book, so I'm itching to do some highlighting (especially the ends of chapters 5 and 6 and the beginning of chapter 11). I'll always be Annie's biggest cheerleader, but this book makes me wish we were friends in real life so I could hug her so hard.
Remember God releases October 2, but if you preorder right now, you won't have to remember to order it later 😉
Check out some of Annie's other books: Let's All Be Brave, Looking for Lovely, and 100 Days to Brave
Most days when I sit down to write, I cannot focus. I'm not a huge consumer of caffeine and I already drink a lot of water and take vitamin B, so there aren't a lot of options (other than more sleep at night, which I have very little control over depending on what little people wake up at night). I discovered a few weeks ago that if I put Plant Therapy's synergy Go Go Go in my diffuser while I work, I'm more focused and efficient and actually feel more confident about the words I get down at the end of a writing session. Another alternative is A+ Attention (I diffuse or use the roll on). Other oils we love in our family is Nighty Night (very calming and I use it during the day), Sweet Dreams (the kids use this at night), Tranquil (I use this at night), and a combination of Cedarwood and Rosalina (I use this at night when my sinuses are acting up). I love Plant Therapy because they're very good about making safe use information available (especially since I use the oils with the kids!) and they're new diffuser is my favorite diffuser ever!
I'm pretty sure I've shared this app before, but it really is one of my favorites and I tell people about it all the time, so it deserves another mention. Libby is an app that allows you access to digital media (ebooks and audiobooks) from your local library. They have limited copies of everything, so sometimes you still have to wait for something you've put on hold, but the library fine line in my budget has gone down drastically since I started using Libby. 🙄When we travel, we load up on children's books and most of them are equipped with narration, so the kids can read and listen at the same time. I love being able to read more fiction since it's convenient and still taking advantage of the library system. I've read most of Rainbow Rowell's books now and I might be a little obsessed. 😀
---
Is life a little rough right now and you wish you had someone following you around, encouraging you, here's the next best thing. Print it out and hang a copy everywhere you need to see it!
3 Truths (and a lie) For When Life is Ridiculously Hard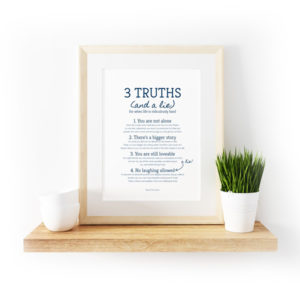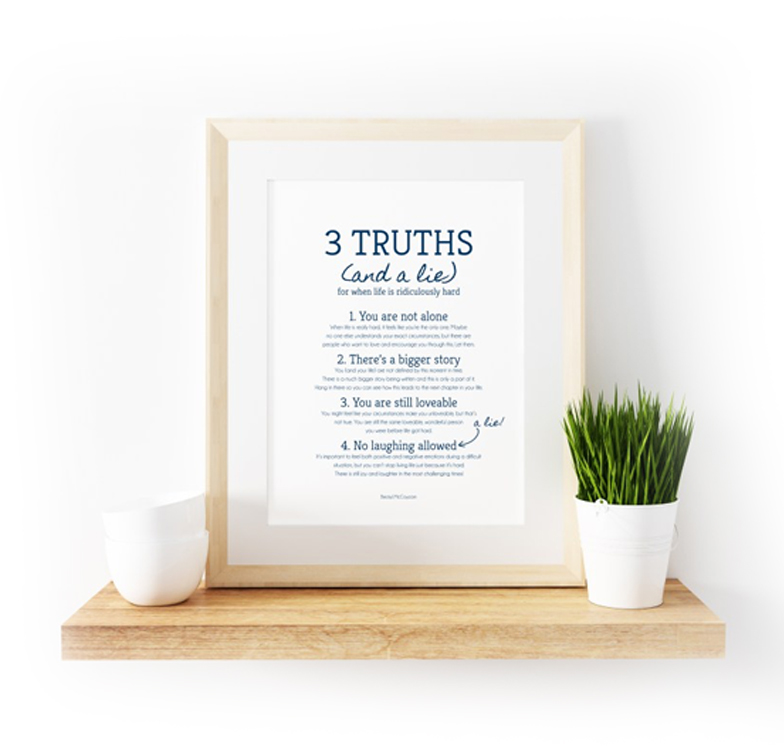 Get 3 Truths (And A Lie) for when life is ridiculously hard