Big Brave Dreams for 2016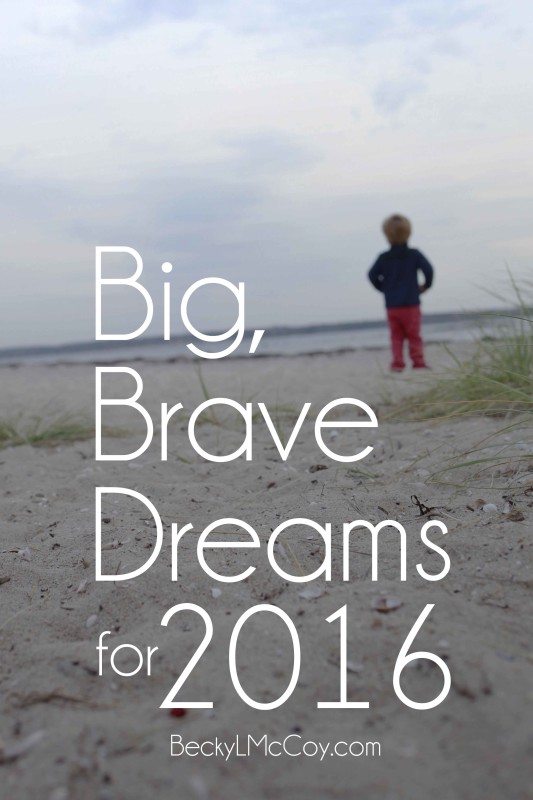 After reading Annie F. Downs' book Let's All Be Brave, I'm deciding to dream some big, brave dreams for 2016. I'm sharing them with you so that you can hold me accountable and cheer me on!
 Blog
With the rebranding I did on the blog last year, I'm ready to write more regularly. I'll be continuing my posts on grief, but also want to write more often about living authentically as well as anxiety and depression.
I'm dreaming that this will become a community where people can struggle and celebrate together. We can all make this reality by sharing and commenting on posts and continuing the discussions that are happening on my Facebook page.
 Book
For about a year and a half, I've been working on a book proposal. While I'm keeping the details private for now, I am serious about finishing the proposal and finding an agent this year.
I'm dreaming that by the end of 2016, I'll have an agent and a finished manuscript. You can help by sharing my blog with friends and family so I can show publishers that people are interested in reading my work. I won't turn down coffee or babysitting offers to help get the writing done.
 Travel
This year I'm learning how to take care of myself. I don't quite believe it yet, but the people closest to me keep telling me I'll be a happier, more grounded person, mom, and writer if I plan time to do things that refresh and build me up.
I'm dreaming of attending She Speaks this summer and seeing friends that live in other parts of the country. Would you pray that the logistics get worked out for this conference and for the kids and I to visit friends or for our friends to visit us?
 Reading
In addition to taking care of myself in big ways, I'm learning to plan time each day to take care of myself so that I don't ever reach the burn out point. One of the things I love doing, but haven't made much time for, is reading.
I'm dreaming of reading at least one book from start to finish. It may seem like an easy goal to achieve, but I wanted to have one goal that I knew was attainable. I've got a list of about a dozen books I want to read this year, so one book finished is the first step to reading more often. You can keep track of what I'm reading by joining my monthly newsletter.
 Health
My physical health has been on the back burner while dealing with all of the life changes last year and caring for Keith and being pregnant the year before. I want to show my kids how to take care of themselves and I want to be a healthy family together.
I'm dreaming of losing weight and getting strong. I'm getting back to dancing and when spring rolls around, I'll start running again. I'm readjusting my relationship with food. Will you join me in this pursuit of health and cheer one another on as we achieve our goals?
I am so thankful for all of you. Thank you for reading and sharing my words. Thank you for cheering me on as a writer and in life. Thank you for continuing to care for my family through your encouragement and thoughtfulness.
Ready to cheer me on? Sign up for my monthly newsletter and you'll get updates each month. I appreciate every word of encouragement and accountability, so I'm counting on your help!
---
Get exclusive photography tips, family updates, and book recommendations in the monthly newsletter! JOIN HERE
Get 3 Truths (And A Lie) for when life is ridiculously hard