Book Review: And It Was Beautiful by Kara Tippetts
I discovered Kara Tippetts when Keith was sick. Kara lost her battle to breast cancer just over two months after Keith passed away. I was drawn to her words as she was able to describe exactly what it was like to be facing death while trying to raise a family. Her blog helped me to understand what Keith was facing and when her husband Jason posted, I felt validated in my struggles as a care giver.
Kara's last book, And It Was Beautiful, is available for purchase soon and I am so honored to have received an advanced copy in exchange for a review.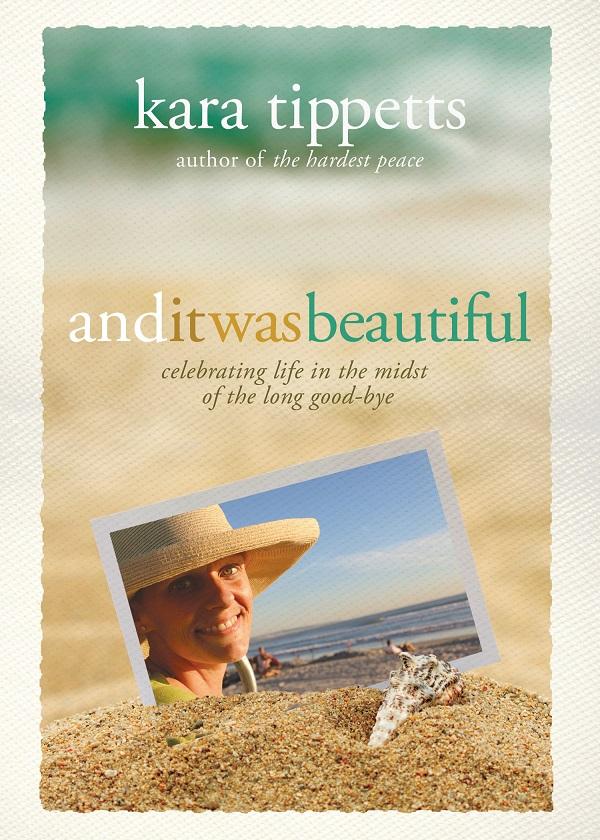 It's hard to do this book justice, but if you've ever felt that your hurt is too much, this book is for you. It's a compilation of some of Kara's most resonating blog posts from her first battle with cancer through to the end of her life.
This book feels like a giant hug for a broken heart.
Kara is incredibly honest, saying, "Although I have experienced moments of great peace, there have also been moments of debilitating fear." There is never a moment when she romanticizes or minimizes her suffering.
In one chapter, Kara wrestles with the coexistence of good and wonderful with hard and suffering:
One of the things we've learned this crazy year is to enjoy the moments. The thing about suffering is it makes the sweet moments so much sweeter…The joy in the mundane feels so much more real when sadness has been walked through and tasted…Even with all the hardships, our children had grown in hospitality and love. They had learned to welcome and love strangers. They had learned flexibility. And they had grown in grace.
And then there are quotes like this one that I identify with so closely:
My community and I have just been surviving, facing each moment and looking for the grace to get through it. The ones I find truly brave are the ones who left the comforts of their life to enter into our hard with us.
Over the last year and a half, so many of you have jumped in the trenches with me. When it's easy to run far, far away from my pain, you have buckled in for the ride. You have served my family in ways that aren't even tangible.
I love that Kara doesn't shy away from hard questions. She wonders how life turned out this way. "How did I get here?" is the question she often asked about being a mom of four who was nearing the end of her life due to metastatic breast cancer. I have often asked the same question since being widowed. How did I get here? It certainly wasn't of my choosing. And it's so very hard to be living a life you didn't choose. Kara puts it best, "grace shows up. It always does, but we usually have to look for it."
This is exactly why I write and why I started the podcast. Grace does show up, but we have to look for it.
I hesitate to share any more of the book with you because it's best read in its entirety where you can dog-ear and highlight it to bits, but I wanted to leave you with this last quote that gave me all the feelings:
It's a hard year to reflect on, but it has been a year of seeing God in His faithfulness in a totally new way. If at any point in the year I doubted His faithfulness to me, there was always a reminder of His goodness. Always.
I highly recommend you buy this book and pass it around with your friends and family. The raw, vulnerability is so relatable that anyone who has struggled through a difficult season will be able to identify with it.
---
From the publisher:
About the book:

And It Was Beautiful: Celebrating Life in the Midst of the Long Good-Bye (David C Cook, March 2016)

"I was here. I saw beauty. I embraced it." -Kara Tippetts

How do you live out extravagant love in the everyday moments? How do you celebrate grace when your life turns out differently than the one you dreamed?

Kara Tippetts discovered how to find joy in the small moments of life. She learned how to hold tight to hope even while battling intense physical and emotional pain. And she lived out the truth that God can redeem any story.

In her final book, Kara offers gentle reflections on living and dying well. She invites us to cultivate soft hearts even when we face great disappointment. Her ideas for living are hard-won, wrestled with in the crucible of family, illness, and faith. And her constant reminder is that whether we are in the midst of dark days or mundane moments Jesus is always there, life is surprisingly beautiful, and God is forever good.

Purchase a copy: http://bit.ly/1QVAvgz

About the author:

Kara Tippetts was the author of The Hardest Peace and the co-author of Just Show Up. She blogged faithfully at mundanefaithfulness.com. Since her death in March 2015, her husband, Jason, has been parenting their four children and leading the church the couple founded in Colorado Springs, Colorado.
Get 3 Truths (And A Lie) for when life is ridiculously hard