Book Review: Looking for Lovely by Annie F. Downs
I love books. I love to read books and I love to recommend books. You need to read Looking for Lovely by Annie F. Downs. I received an advanced copy of the book as part of Annie's launch team (the book only just launched last week!), but as soon as I was done reading, I ordered a ton of copies.
Seriously, this one is a life changer.
Annie describes the book as the story of her transformation after a mental and emotional breakdown that started with the release of her last book, Let's All Be Brave (a personal favorite – read that one, too).
In Looking for Lovely, Annie gets raw and dives deep into what it means to suffer and what it means to find hope.
…hope is an expensive commodity, not easily won, always fought for, and the result of a process that may take some time.
Sometimes we talk about hope like it's something that might come out of a gum ball machine for a quarter. And if we aren't feeling hopeful and we can't quite get it together, then we must be broken. I've spent too much time wishing I were different, or at least better. Annie puts that feeling into words when she describes her first appointment with a counselor:
I thought I needed to be repaired. By my need was significantly deeper than that, and that's pretty much the first thing she told me. I actually needed to be rebuilt. And rebuilding anything that is over thirty eras old takes a lot of time and strength and perseverance.
There's nothing casual or easy about the rebuilding process. It hurts. It's hard. In each of my own "rebuilding" seasons, there's been a point when I wanted to quit or at least pretend everything was fine. Annie felt the same, but acknowledged that change can't happen without wading through the hard.
Just like that, instead of eating ice cream until my pain subsided or disappeared, I had to look at my pain. And feel it. I had to sit in the uncomfortable and unfamiliar areas of hurt and figure out what to do with the actual feelings and the experiences. And when the broken crazy got loud that summer, I just couldn't stuff it down.
One of the reasons I love this book so much is because of Annie's rawness. She boldly admits the hard and doesn't hold back when describing the pain, but it felt like she was reaching through the book to hold my hand through my own hurt.
And I survived. I didn't quit. I didn't walk away from the pain or give up on life. I walked all the way through it, holding the hands of many trusted friends and my counselor, and here I am on the other side. My counselor was right; my capacity to see beauty has increased in a much bigger measure than the pain I felt. My ability to feel the depths of something good was strengthened by my choice to feel the depths of pain. I don't exactly know how it works. I just know the more I hang on and feel, the more I am able to feel; and each time more balm gets rubbed into the wounds of my soul.
In one of the sections, Annie describes her propensity to quit. She said that when things get hard, she tends to run and avoid the struggle. I realized that I'm a quitter, too. I hate to do hard things: I've started and stopped losing weight numerous times; I've avoided confrontation when it was necessary; when I could've worked harder, I gave up; and the list goes on. And then Annie said what my heart needed to hear:
…to keep from quitting, you have to pause.
Instead of running away, just pause and reevaluate. As I've been practicing this, I realize that in the pause, I find the strength and resolve to keep going.
In the end, Annie finds purpose in her pain.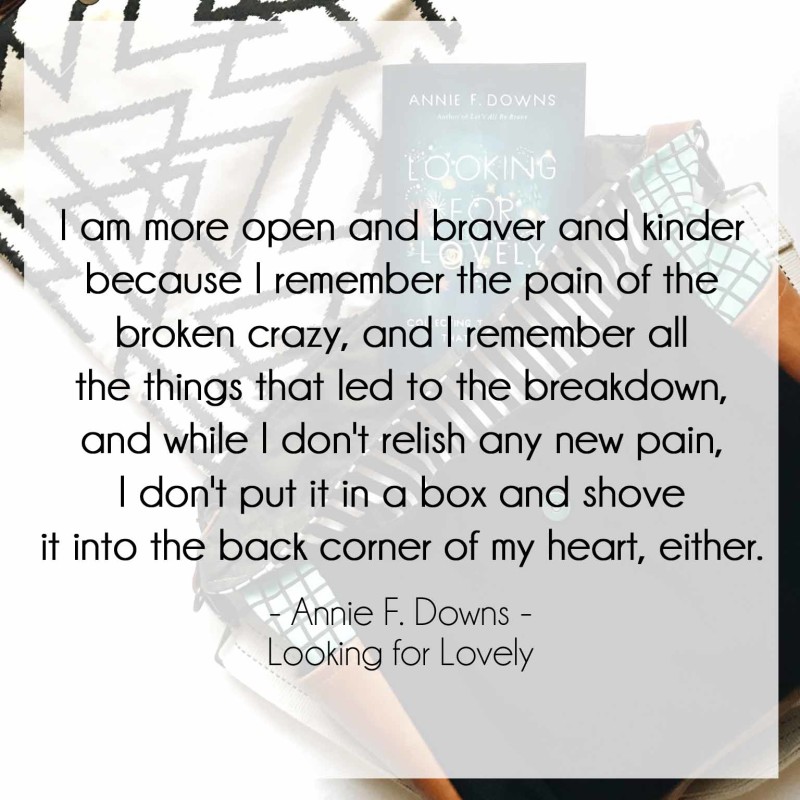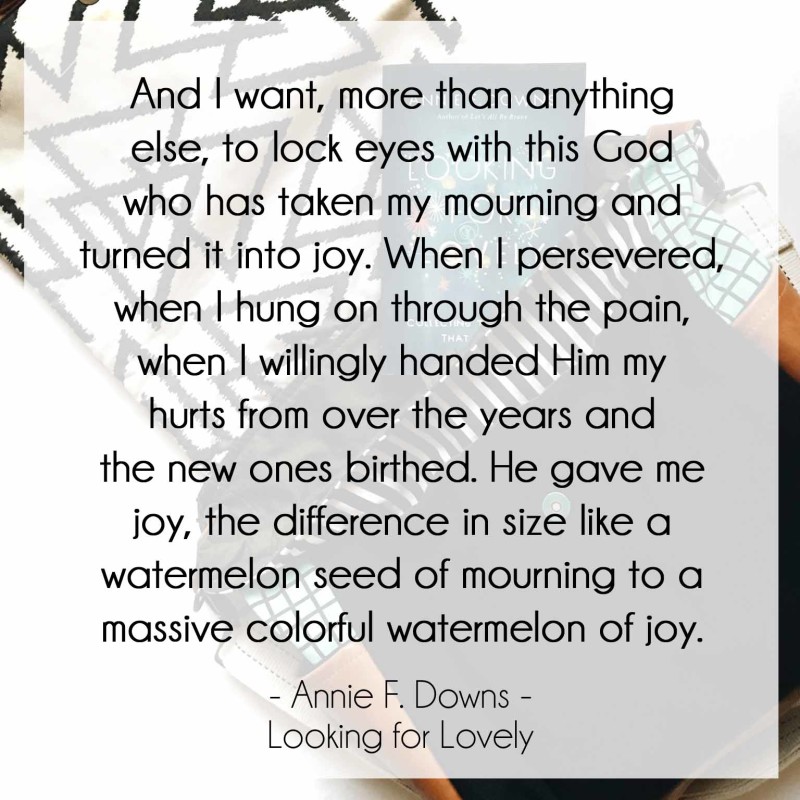 To order Looking for Lovely, head to Amazon or where ever you buy your books.
---
Looking for more book reviews? Sign up for my newsletter and you'll get one every month! SUBSCRIBE HERE
Get 3 Truths (And A Lie) for when life is ridiculously hard