Dear God: Are You Still Good?
Dear God:
It's been a rough few years for you and me. You've allowed things to happen in my life that hurt. My heart has been broken and me dreams have been dashed. Not long after Keith died, I wrote that, "my heart feels a lot like my kindergarten knees." And it seems like every time my heart is just about healed, the scabs are ripped off and the hurt is fresh all over again.
It's not just me. Everyone is hurting. The whole world is hurting.
I don't believe that you caused the hurt. The hurt is just a result of the broken, jacked up world we live in. But you're an easy target. I've yelled at you and blamed you. I'm sure I'll do it again. Thanks for at least being patient with my kicking and screaming.
As I look back on the last ten or so years, I remember all the tears. I'll never forget all the moments of feeling utterly overwhelmed, hopeless, and inadequate. And then I recall the laughter. The painful moments have never invalidated the good ones.
My kids are such joys. Thank you for them; they have given me healing and hope. We have constant adventures and never-ending giggles. We are surrounded by a community of people who love us so well. There are so many things to be thankful for.
And yet, I still see some pieces of myself scattered on the ground. I'm finding myself again, but I'm a different self than I was before. I carry the hurts with me even when I'm no longer hurting. They are now part of my story and I'm not the same without them. In a strange way, I'm thankful for the hurts.
You've been good to me. You've healed my broken heart. But I still have this one burning question: are you still good?
Challenging seasons continue to come. I wrestle with you like Jacob did. I demand your blessings. Sometimes you bless and sometimes you are silent.
It's the silence that I hate.
Can I trust you? Do you hear my prayers? Will you respond?
In your silence, I struggle to see your goodness. I remember your goodness in the past, but I'm not sure you'll display your goodness this time. I don't want to trust you. I don't want to be hurt again.
But I'm not sure I have a better alternative.
I'm willing to risk that you didn't hear me or that you aren't preparing your answer. Because the only other option is that I'm completely on my own and I know I'm not equipped to fix it all.
I may not be able to fix the hard in life, but I can be brave. I can choose not to avoid the challenges, but keep moving forward, through them.
Dear God: would you show me your goodness? Remind me that you're worth trusting.
Waiting and wrestling,
Becky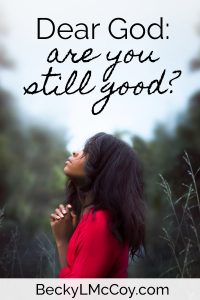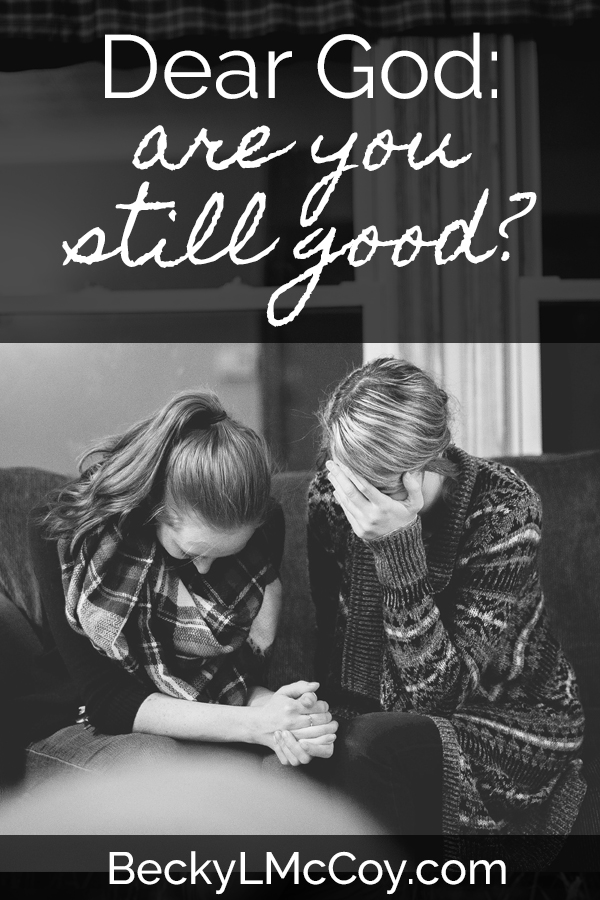 Get 3 Truths (And A Lie) for when life is ridiculously hard