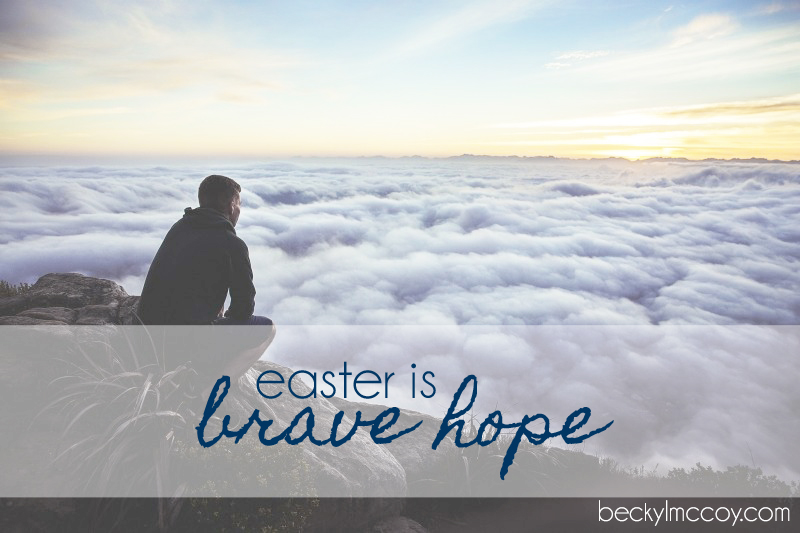 I've spent the last week trying to come up with something to encourage you to embrace the hope of Easter. Last year I wrote about how Easter is Real and the year before, I shared how Easter is Freedom and this year I've had no inspiration, but I hope these words will encourage you anyways.
The raw, honest truth is that Easter makes me uncomfortable. Easter is hard. On Good Friday, people dismiss the grief of Jesus' death because "Sunday is coming!" But on Friday, someone died and on Saturday, he was still gone. Jesus' family and friends weren't convinced any resurrection was coming and that's devastating.
To make it to the joy of Easter Sunday, we have to trudge through the darkness of Friday and Saturday. Having hope doesn't make the hard go away.
Choosing to live through those hard, impossible hours, days, weeks, months, or years when life turns out to be different than we had expected or hoped for is one of the bravest things you or I could do. Easter gives us that choice. Because of Easter, we can hope that good things are coming even when life is crumbling. Because of Easter, we can experience a great grace that leaves us the strength to be brave.
Because of Easter, we can choose brave hope that pain has a purpose.
I don't mean that in the conventional "everything happens for a reason" sort of way. My pain having a mysterious "reason" is not comforting because it insinuates that if I knew the reason for the painful season, my pain would suddenly evaporate; my pain is not a result of my inability to make sense of a painful situation. I may not ever know the purpose for my pain. It may play a role in developing my character, it may be the thing I needed to propel me into a new challenge, or it may not have anything to do with me at all: my pain might be for the good of someone or something else.
This Easter, let's decide, together, to choose to bravely hope without having to know the purpose for our pain. Let's jump, feet first, into the great grace that gives us the strength to hope without all the answers.
Maybe you don't believe in Easter and only see Jesus as an historically influential character. Maybe you struggle with believing that someone could love you, as broken and messed up as you are. Maybe you're still trying to be good enough. Maybe you like the idea of God, but you've felt abandoned. Maybe you agree with everything I have to say. Maybe you're rolling your eyes.
I don't know where you are in your journey, but I'm at a place where I am freely admitting that I can't do it on my own. I can't handle the weight of the pain of loss and changed expectations on my own. I'm not strong enough.
I desperately need the brave hope of Easter.
If that's you and you're desperate for brave hope, too, find someone who is choosing to live with brave hope and ask them where they found it. Send me an email. Better yet, pray that you can find brave hope, too, because I guarantee you'll find it.
So we're not giving up. How could we! Even though on the outside it often looks like things are falling apart on us, on the inside, where God is making new life, not a day goes by without his unfolding grace. These hard times are small potatoes compared to the coming good times, the lavish celebration prepared for us. There's far more here than meets the eye. The things we see now are here today, gone tomorrow. But the things we can't see now will last forever. [2 Corinthians 4:16 MSG]
---
New here? Get new posts and my monthly newsletter via email: SUBSCRIBE HERE
Get 3 Truths (And A Lie) for when life is ridiculously hard