For When The Grief Sneaks Up On You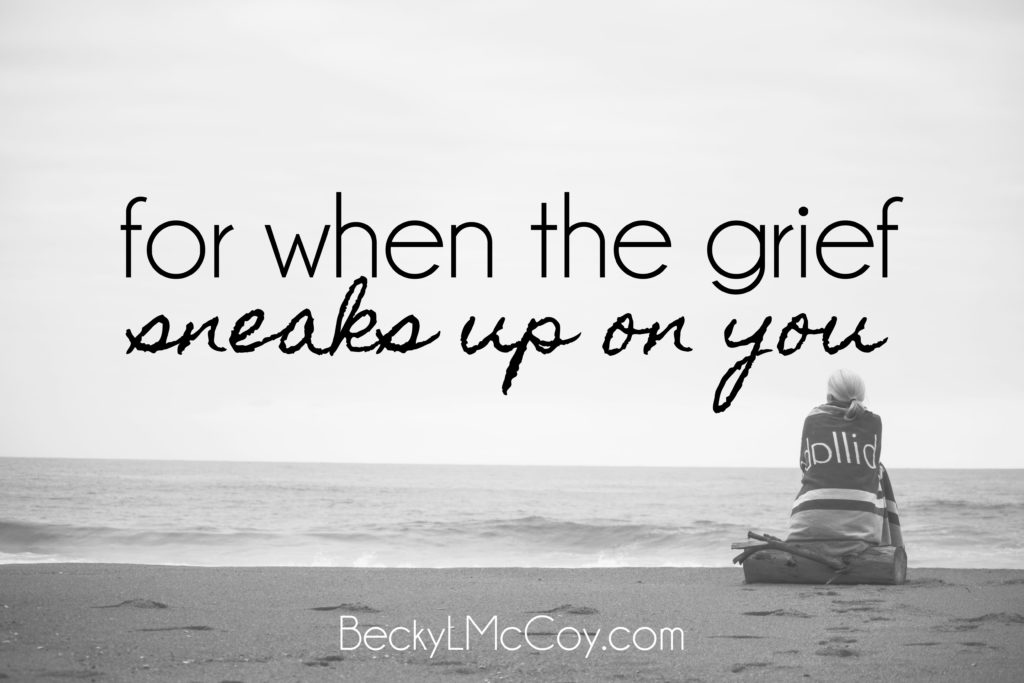 Dear Broken Heart:
Grief is so sneaky, isn't it? Just when I think I've got it all figure out, it figures out a new way to catch me off guard. Or uses an old way that I thought wasn't effective any more.
Last week, Caleb started three day preschool. He barely slept the night before out of sheer excitement. There were several are-we-there-yets during our twenty minute drive. He sprinted in and didn't have time to say goodbye. I love that my boy loves school.
What I don't love is that about five minutes before we got to school, I realized it was the first day. First days mean dads. Not all the dads come to drop their kids off on the first day, but enough for me to feel that pang in my heart that my kids don't get to have their dad on their first days. Ironically, even if he were alive, he wouldn't be able to go to their first days because of his job, but that's not the point. Dads should be there for each new milestone, even if it's just to take phone calls from sobbing moms and laugh at awkward first day of school photos.
I don't know why you're hurting, but I'm guessing grief sneaks up on you, too. A picture. A memory. A landmark. A song, a situation, or a group of people. There are any number of triggers that feel like a punch to the gut. Sometimes they feel like land mines.
Dear Broken Heart, I know that you want to hide from the world sometimes to avoid sneaky grief. Please don't. You are brave enough to keep moving forward. You get to choose how you respond.
On the first day of school, I tried to be the strong one. I didn't want the kids to know I was sad. I didn't want to deal with the well-meaning sympathy of other moms who have a hard time letting go. I wanted to pretend like my husband was at work like the others. But he wasn't at work and he wasn't at home. Reality became too big and I couldn't stand up under the weight of it; grief always seems to sneak attack when I'm trying hardest to avoid it.
Don't be the strong one. That doesn't make you weak: that makes you real and that makes you brave. Feeling the depth of the emotion is a step towards healing.
After all, crying is really just sweating from your eyes.
Get 3 Truths (And A Lie) for when life is ridiculously hard