A year ago today, my life changed. When you get married, you don't expect the "to death do us part" vows to be relevant until you're old. The last year has been a lot of heart ache and even more change. Our family lost Keith and gained Libby. The kids and I moved. I bought and sold a house. I trained for and ran a half marathon. We made new friends and other friends became family.
It has been a strange start to the new year. New Years Day 2015, Keith and I woke up in his hospital room. This year, I began my first calendar year with out him.
And 2016 began in a beautifully mysterious way.
My mom, sister, and I spent a few nights in Providence for a change of pace and scenery. As all moms of littles do on vacation, I woke up at 6:30am and couldn't stay in bed past 8. I gathered my journal and book and headed down to the hotel lobby to soak in the quiet.
As I shut the door to our room, I noticed a coin on top of the handle. I quickly scanned the hallway and no other doors had a New Year's surprise, so I picked it up for a closer look. My curiousity was piqued when I noticed the angel on the front of the coin and stopped breathing for a moment when I noticed the word on the back: HOPE.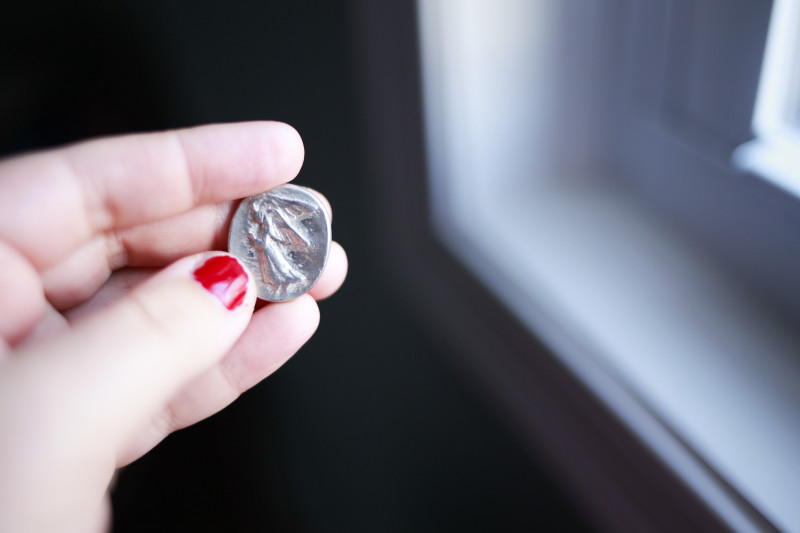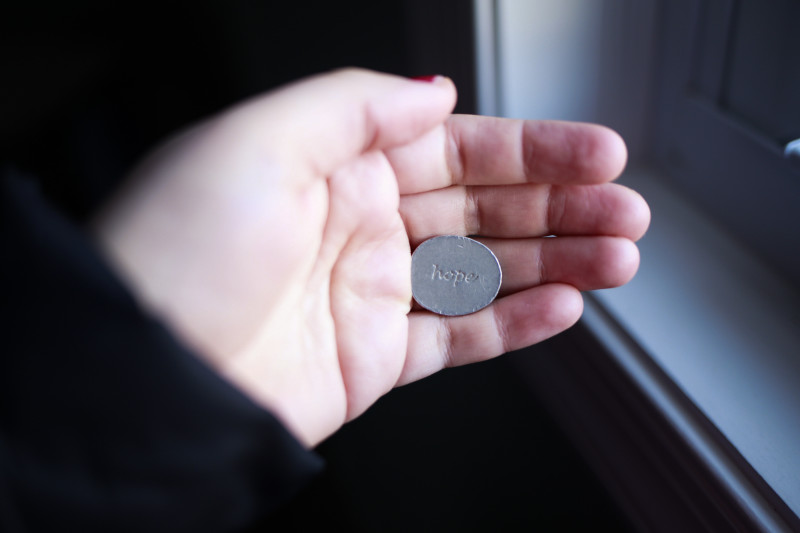 I've never been one for good luck charms, but this coin has been in my pocket ever since I found it.
We who have run for our very lives to God have every reason to grab the promised hope with both hands and never let go. (Hebrews 6:19 MSG)
The last 365 days have been one wobbly step at a time. There was never a point in 2015 where I had a clear vision for our future or felt secure in our present, but I have learned to trust that there is someone who already has a plan. I used to say that I was trusting God with my life, but I realized the other day that I was really just delegating what I couldn't handle anymore. It's scary to let go of my dreams in the hopes that God will take care of them. It's easy to feel forgotten or not good enough for my dreams to come true.
For I know what I have planned for you,' says the Lord . 'I have plans to prosper you, not to harm you. I have plans to give you a future filled with hope.

(Jeremiah 29:11 NET)
A year ago today, my life changed forever. It's been a year of deep sorrow and bigger blessings and the thought of being a widow, even though I've had a year of practice, is still so strange. One of my favorite song lyrics says, "Earth has no sorrow that heaven can't heal," and it's been a mantra (see link below for the entire song).
Life isn't easy, but even with hardship, there is goodness and there is healing. And it's that hope that has changed me for eternity.
---
Get exclusive photography tips, family updates, and book recommendations in the monthly newsletter! JOIN HERE
Get 3 Truths (And A Lie) for when life is ridiculously hard