On loneliness and belonging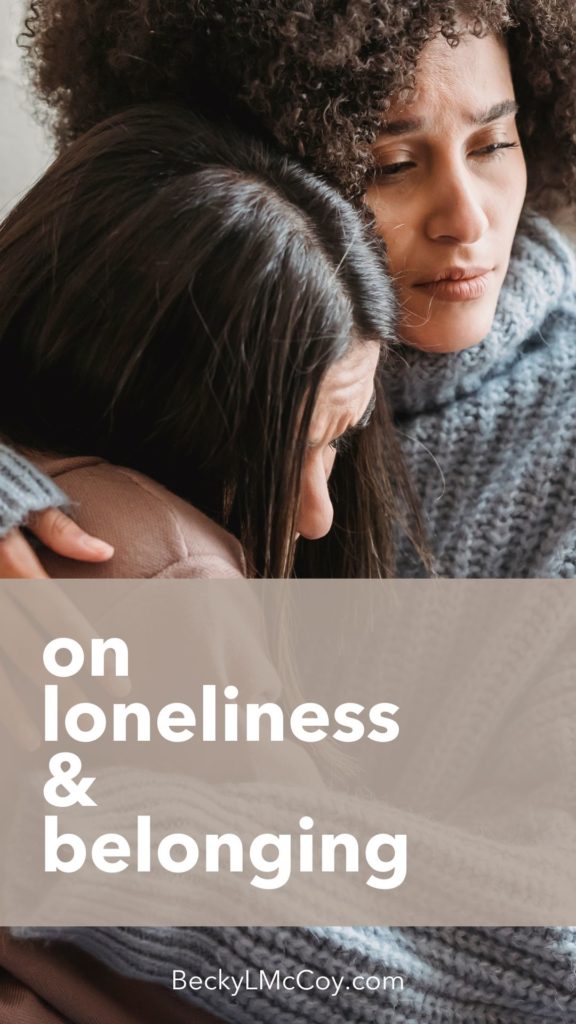 When I was first diagnosed with anxiety and depression I was in my mid-20s and I didn't know anyone else who experienced mental health issues. I felt misunderstood and incredibly alone. A year or so later a friend had a few panic attacks and – while I hated that she was going through this – having someone who knew what I was experiencing was a huge comfort.
One of the greatest lies of loneliness is that we are the only ones who have ever been lonely. Everyone gets lonely.
Whenever I think of loneliness I think of Charlotte Donlon. Charlotte is a writer and spiritual director who has change the way I think about what it means to be lonely and what it means to belong. In her book The Great Belonging, Charlotte lists a handful of times in life when we feel lonely – even when we don't realize that loneliness is what we're feeling.
You wake up in a strange place.
You wake up in a familiar place with a beloved one lying next to you.
You long for your childhood home.
You long for your grandmother's home.
You long for somewhere you've never been.
You're sick on your birthday.
No one remembers your birthday.
You're a new employee in a new office and you plan to eat lunch alone.
You're on the outside of the inside jokes.
You have a secret that you will never tell.
Your older sister leaves for college.
Your oldest leaves for college.
Your best friend's wedding.
You visit a new church for the first time.
You visit a new church for the second time. And the third.
Hospital smells.
Hospital sounds.
The anniversary of your mother's death, your husband's death.
You remember that you forgot the anniversary of your mother's death.
You turn out the lights before going to sleep, when all you have left are yourself and your thoughts.

Charlotte Donlon, The Great Belonging, chapter 6 "Occasions of Loneliness"
It's almost as if we can't escape loneliness. Which would be incredibly depressing if we didn't also get to experience belonging. Charlotte taught me to consider spirituality the ways we belong to ourselves, to each other, to God, and to the world.
When we experience loneliness in one area, we have an opportunity to sink into and be held by the belonging we experience in others.
How do I experiencing belonging within myself?
How do I experiencing belonging with the divine?
How do I experiencing belonging with the people around me?
The world around me?
Belonging, like loneliness changes throughout our lives.
And the most powerful thing is to realize we aren't the only ones those shifts.
When we belong, we know we aren't alone. Maybe no one I know has lost their husband, but they do understand what it feels like to see your dreams shatter and know your life will never be the same. Maybe the people around you can't empathize with your situation or even the emotions you're experiencing because of it, but can be by your side and support you through it. What is community if not a group of lonely people choosing to love each other?
Community helps us feel seen, understood, and supported. Sometimes the feeling of belonging comes from knowing that no one needs to understand, but they support and love you anyways.
Here are three books to help you think more about loneliness and belonging: The Great Belonging by Charlotte Donlon, The Art of Belonging by Charles Vogl, and All the Lonely People by Mike Gayle.
Links may be affiliate links, which means when you use them you help support the work I do. Thanks for help keeping the lights on!
---
Get more encouragement like this straight to your inbox. Sign up below.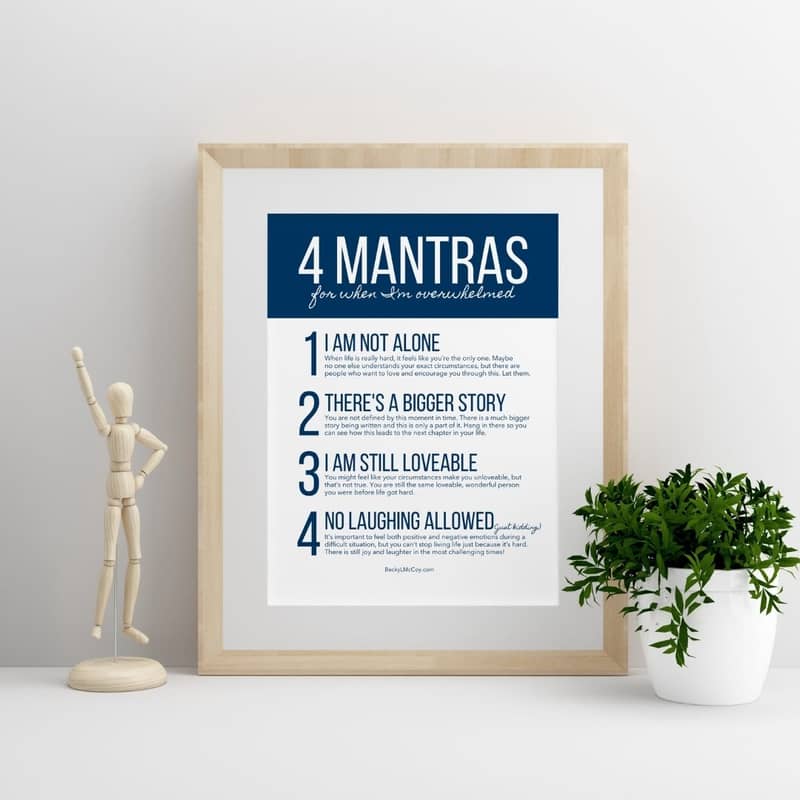 Get 4 Mantras For When I'm Overwhelmed