Ep. 05 – Michelle Tolson; Multiple Sclerosis, Whitney Houston, & Facing Uncertainty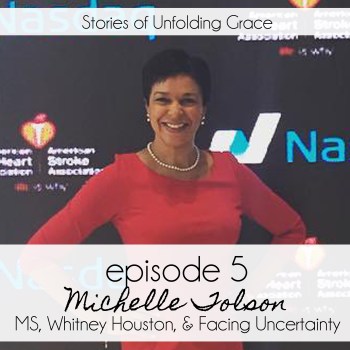 Michelle, a former Rockette, was diagnosed with MS just after turning 40. She describes what it's like to live in fear of an unpredictable disease and insists that she still has hope.
Michelle's Answers to the Fun Questions:
What are you loving right now? Whitney Houston! Seeing a student find their creativity and learn something new.
What's your favorite meal right now? She's trying to eat better, but if she could have any meal, it would be a steak (medium rare) with asparagus and hollandaise sauce and a glass of red wine.
What are you doing to take care of yourself? Making better food choices and walking more often.
What are you doing to be brave? Talking about her diagnosis and being honest about living with fear. Also, being the MS Society spokesperson.
Connect with Michelle:
FACEBOOK: facebook.com/michelle.c.tolson
TWITTER: @michellectolson
MS SOCIETY: nationalmssociety.org
Connect with Becky:
BLOG: BeckyLMcCoy.com
FACEBOOK: facebook.com/BeckyLMcCoy
TWITTER: twitter.com/BeckyLMcCoy
INSTAGRAM: instagram.com/BeckyLMcCoy
PINTEREST: pinterest.com/BeckyLMcCoy
NEWSLETTER: BeckyLMcCoy.com/email 
Share your Sucker Punched story at BeckyLMcCoy.com/Submissions
Please subscribe to and rate this podcast to help others find Sucker Punched.
NOTE: Sucker Punched is the podcast formerly known as Stories of Unfolding Grace