Ep. 08 – Emily Heller; Peace Corps, Chasing Dreams, & Belonging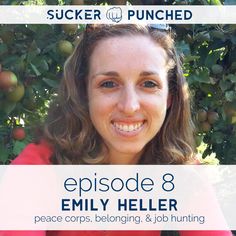 Emily, an environmental scientist and Peace Corps alumna shares her experience with the Peace Corps, finding a place to belong, and learning that she could trust God with her dreams.
Emily's Answers to the Fun Questions:
What are you loving right now? Being quiet with God, finding happy fun things on social media, knitting, and spending time with family.
What's your favorite meal right now? Yogurt with fruit and granola: a parfait of the day!
What are you doing to take care of yourself? Running!
What are you doing to be brave? Applying for jobs and letting go of what might be the "perfect" situation.
Information on the Peace Corps: www.peacecorps.gov
Connect with Becky:
BLOG: BeckyLMcCoy.com
FACEBOOK: facebook.com/BeckyLMcCoy
TWITTER: twitter.com/BeckyLMcCoy
INSTAGRAM: instagram.com/BeckyLMcCoy
PINTEREST: pinterest.com/BeckyLMcCoy
NEWSLETTER: BeckyLMcCoy.com/email 
Share your Sucker Punched story at BeckyLMcCoy.com/Submissions
Please subscribe to and rate this podcast to help others find Sucker Punched.
NOTE: Sucker Punched is the podcast formerly known as Stories of Unfolding Grace