Ep. 10 – Patty Giannattasio; Bankruptcy, Foreclosure, & Tomato Soup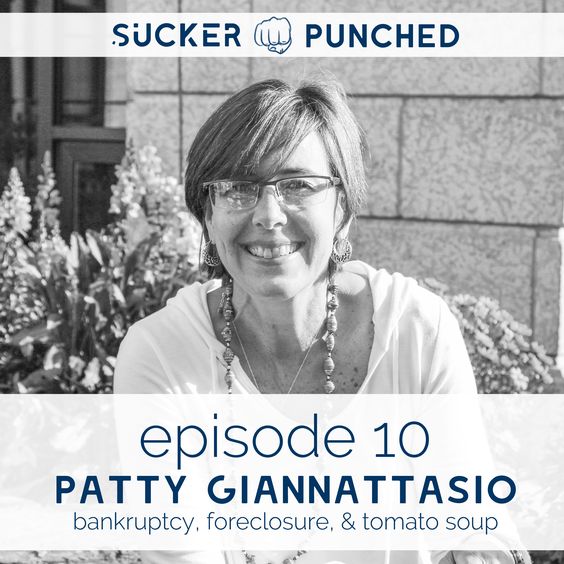 Meet Patty, an all around awesome and brave person (also known as my mom), shares the story of the years when my dad was laid off: he was running his own business and, while it was a thriving business, their mortgage was sold to a bank who wouldn't recognize the federal program that allowed them to pay only interest while they got back on their feet. Bankruptcy and foreclosure followed and my parents had to find a place to live when most places wouldn't consider them as tenants with a history of bankruptcy. Grace showed up in the form of Toys 'R' Us Geoffrey Bucks and tomato soup and helped her to realize that "home" is where family is.
Patty's Answers to the Fun Questions:
What are you loving right now? Daffodils, the completed Niantic boardwalk, and spring arriving
What's your favorite meal right now? Noosa coconut yogurt and dark chocolate.
What are you doing to take care of yourself? Learning about who she is and what it looks like to be a widow in this season of life.
What are you doing to be brave? Pursuing new interests and trusting God with an unknown future.
Connect with Becky:
BLOG: BeckyLMcCoy.com
FACEBOOK: facebook.com/BeckyLMcCoy
TWITTER: twitter.com/BeckyLMcCoy
INSTAGRAM: instagram.com/BeckyLMcCoy
PINTEREST: pinterest.com/BeckyLMcCoy
NEWSLETTER: BeckyLMcCoy.com/email 
Share your Sucker Punched story at BeckyLMcCoy.com/Submissions
Please subscribe to and rate this podcast to help others find Sucker Punched.
NOTE: Sucker Punched is the podcast formerly known as Stories of Unfolding Grace