Ep. 22 – Christina Herr; Mental Illness, Resentment, & Restored Relationships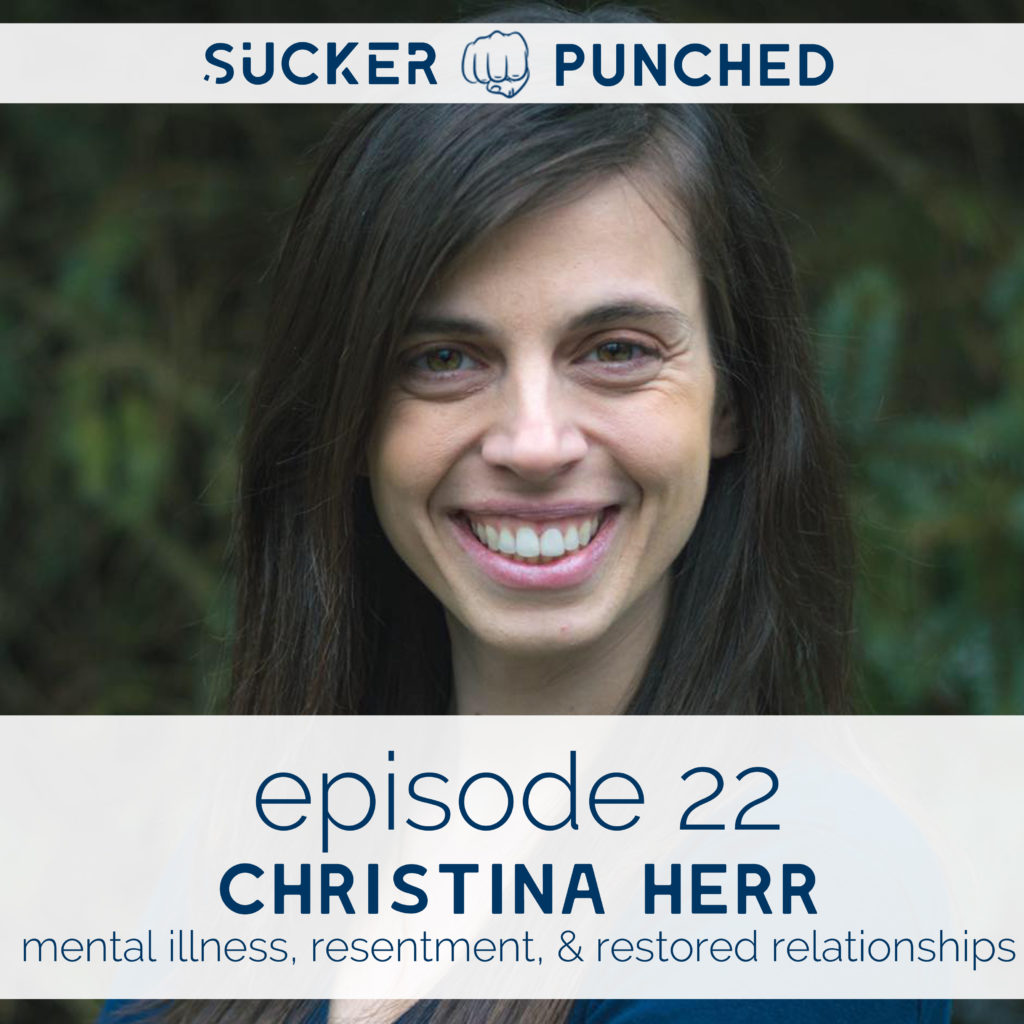 Meet Christina, writer at Laughter Without Fear and host of Minivan Confessions, who had a challenging child as the daughter of a mom with several mental illnesses. When Christina was four, her dad had a heart attack and she and her siblings were placed into foster care because of her mom's bipolar disorder, learning disabilities, and schizoaffective disorder. Without reason, Christina was placed back in the care of her mother even though her siblings remained in the foster care system. As she grew up, Christina realized that her relationship with her mom was not like those of her friends and their moms. As a teenager, she resented the fact that they didn't have the bond she expected and was embarrassed by her mother's hoarding tendencies. After attending a seminar on mental illness at the Cornerstone Music Festival, Christina realized that people who struggle with mental illnesses need a tremendous amount of compassion and she began to learn more about her mom's particular struggles. Christina sees grace throughout her life in the strong support system she grew up with and in learning to trust God with her life details. Difficult seasons in life, she says, are merely plot twists and not the ending.
Christina's Answers to the Fun Questions:
? What are you loving right now? the new Harry Potter book
? What's your favorite meal right now? alfredo sauce and chocolate
? What are you doing to take care of yourself? making time for interests, hobbies, and running
? What are you doing to be brave? getting her words out there and making a point of encouraging people
Connect with Christina:
BLOG: LaughterWithoutFear.com
FACEBOOK: facebook.com/LaughterWithoutFear
INSTAGRAM: instagram.com/ChristinaHerr
Connect with Becky:
BLOG: BeckyLMcCoy.com
FACEBOOK: facebook.com/BeckyLMcCoy
TWITTER: twitter.com/BeckyLMcCoy
INSTAGRAM: instagram.com/BeckyLMcCoy
NEWSLETTER: BeckyLMcCoy.com/email
Share your Sucker Punched story at BeckyLMcCoy.com/Submissions Please subscribe to and rate this podcast to help others find Sucker Punched.
NOTE: Sucker Punched is the podcast formerly known as Stories of Unfolding Grace