Ep. 26 – Della Gallagher; Divorce, Cystic Fibrosis, & Self Love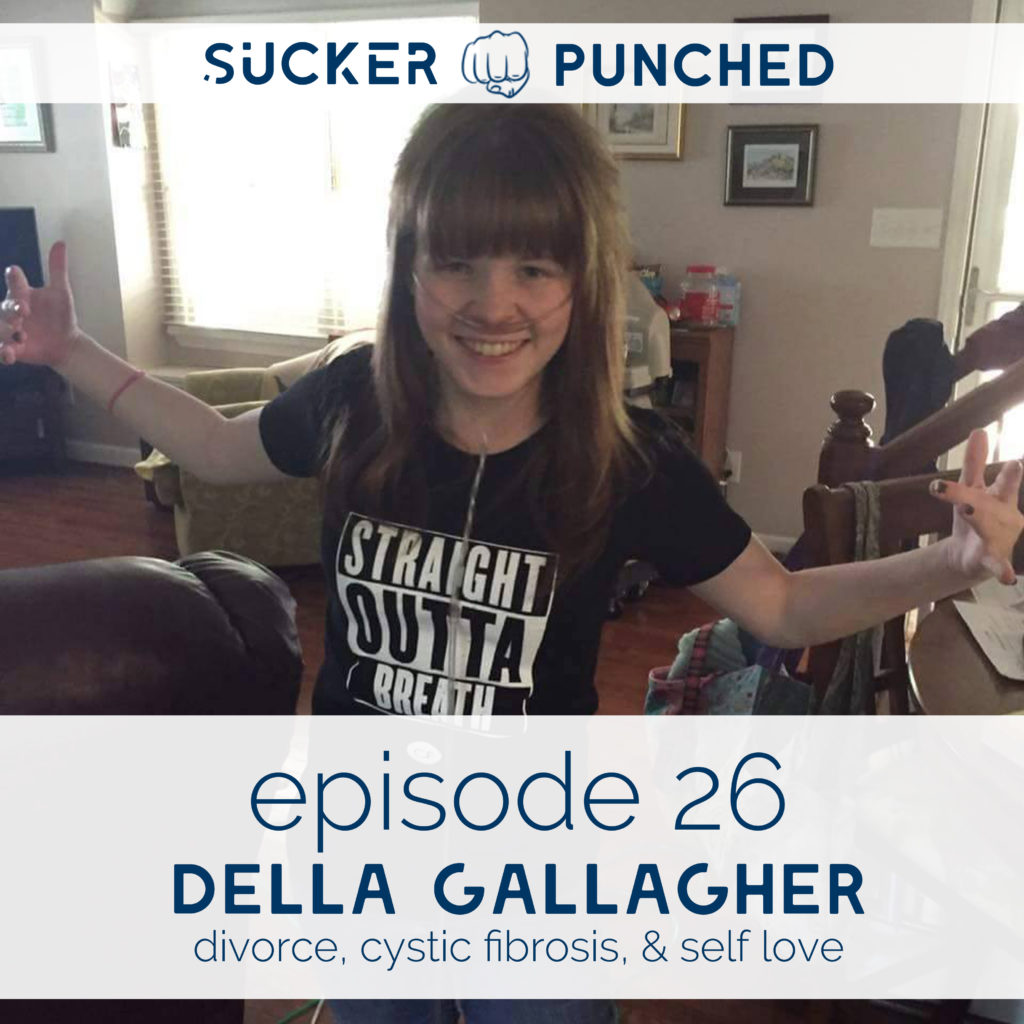 Meet Della, a bubbly former ballroom dancing instructor, who moved to Connecticut from North Carolina with her husband, only to be facing a divorce soon after. Adding insult to injury, Della had a severe pulmonary embolism (a blockage of blood flow to the lungs) as a complication of her cystic fibrosis (CF). She didn't handle all of the changes well and even attempted suicide. Now, Della is living with her parents, taking care of herself, and learning what unconditional love really means. The biggest thing Della has learned through these challenges is who God really is. Being a Christian, Della explained, is much more about relationships than it is about saying the right things or acting the right way. She wants people to know that it's okay to "take God into a boxing ring and then out for ice cream" because he can handle the reality of our lives. Her advice for people handling significant amounts of change or struggling with living a life that's less than what they dreamed of is "don't give up and take your time," learn to love and accept yourself, find a counselor, and spend time praying.
Della's Answers To The Fun Questions:
? What are you loving right now? Love Does by Bob Goff
? What's your favorite meal right now? Sushi and Chipotle
? What are you doing to take care of yourself? Doing all her CF treatments, leaving the house, and being open and honest with people
? What are you doing to be brave? Giving herself permission to love herself, her life, and God
Connect with Becky:
BLOG: BeckyLMcCoy.com
FACEBOOK: facebook.com/BeckyLMcCoy
TWITTER: twitter.com/BeckyLMcCoy
INSTAGRAM: instagram.com/BeckyLMcCoy
PINTEREST: pinterest.com/BeckyLMcCoy
NEWSLETTER: BeckyLMcCoy.com/email
Share your Sucker Punched story at BeckyLMcCoy.com/Submissions Please subscribe to and rate this podcast to help others find Sucker Punched.
NOTE: Sucker Punched is the podcast formerly known as Stories of Unfolding Grace