Ep. 30 – Becky McCoy; Taking Risks, Podcasting, & Season Finale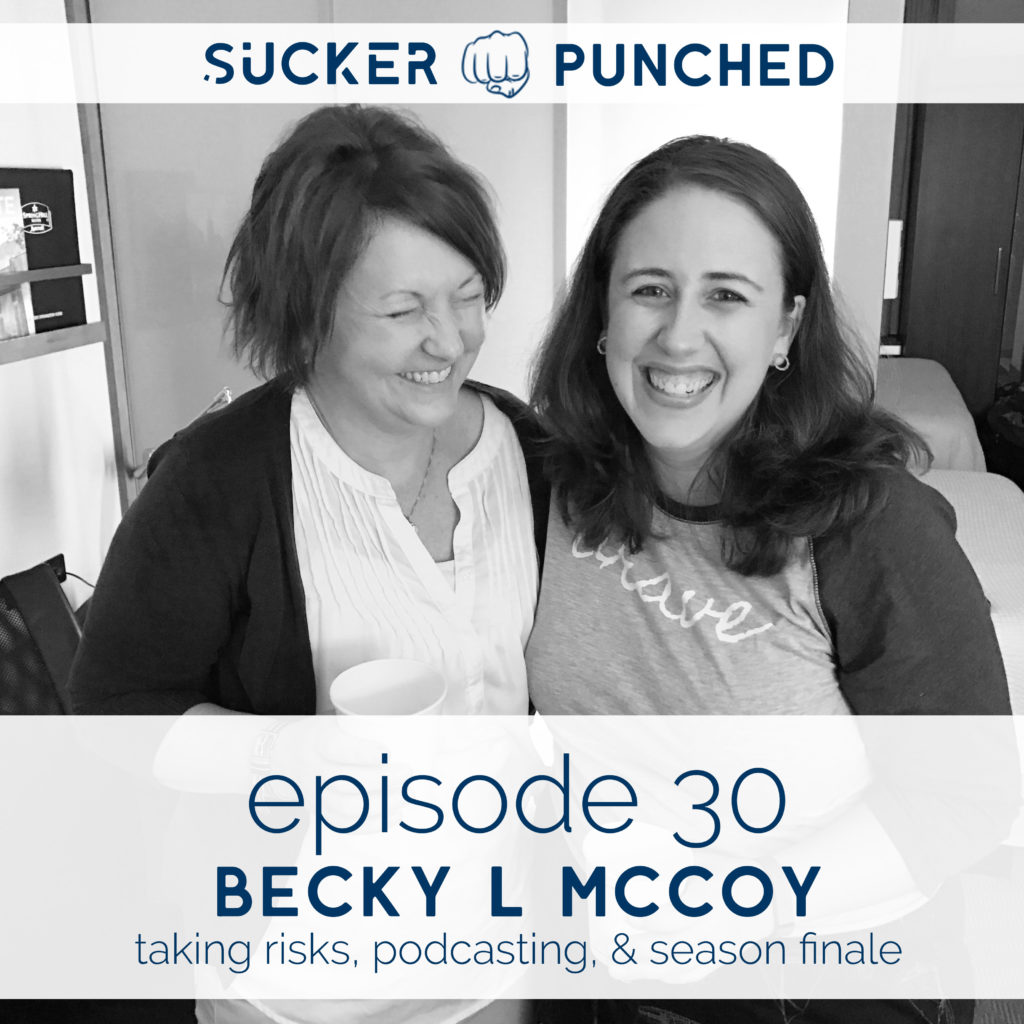 It's hard to believe it's been 30 episodes. I started this podcast wanting to give people an avenue to share their stories of struggle and grace, but I wasn't sure what the reaction would be. It's been particularly challenging to share my own story because the vulnerability scares me; is it worth risking my comfort and is anyone even listening or reading? Now that it's the end of the first season, I felt it was appropriate to share how I've had to choose to live bravely even when I didn't feel like it. My friend Heather Bender from episode 7 interviewed me from our hotel room at the Hope*Writers Workshop and we shared thoughts on being vulnerable as a writer, the fears all creatives face, and some projects I've been working on. She's an ENFP and I'm an INFJ (for all you Meyers Briggs fans), but we magically make a great team.
Becky's Answers To The Fun Questions:
? What are you loving right now? Being at the Hope*Writers Workshop and having the space and time to dream
? What's your favorite food at the moment? Cherry Oat Bars at Starbucks at East Coast Taco
? What are you doing to take care of yourself? Making time for reading and waking up before the kids
? What are you doing to be brave? Taking time off from writing and podcasting to give my brain a break
Connect with Heather:
BLOG:HeatherDBender.com
FACEBOOK:facebook.com/heatherdbender
TWITTER: Twitter.com/DFHK_blog
INSTAGRAM: Instagram.com/HeatherDBender
Connect with Becky:
BLOG: BeckyLMcCoy.com
FACEBOOK: facebook.com/BeckyLMcCoy
TWITTER: twitter.com/BeckyLMcCoy
INSTAGRAM: instagram.com/BeckyLMcCoy
PINTEREST: pinterest.com/BeckyLMcCoy
NEWSLETTER: BeckyLMcCoy.com/email
Share your Sucker Punched story at BeckyLMcCoy.com/Submissions Please subscribe to and rate this podcast to help others find Sucker Punched.
NOTE: Sucker Punched is the podcast formerly known as Stories of Unfolding Grace