Ep. 38 – Jenny Randle; Depression, Marriage, & Creativity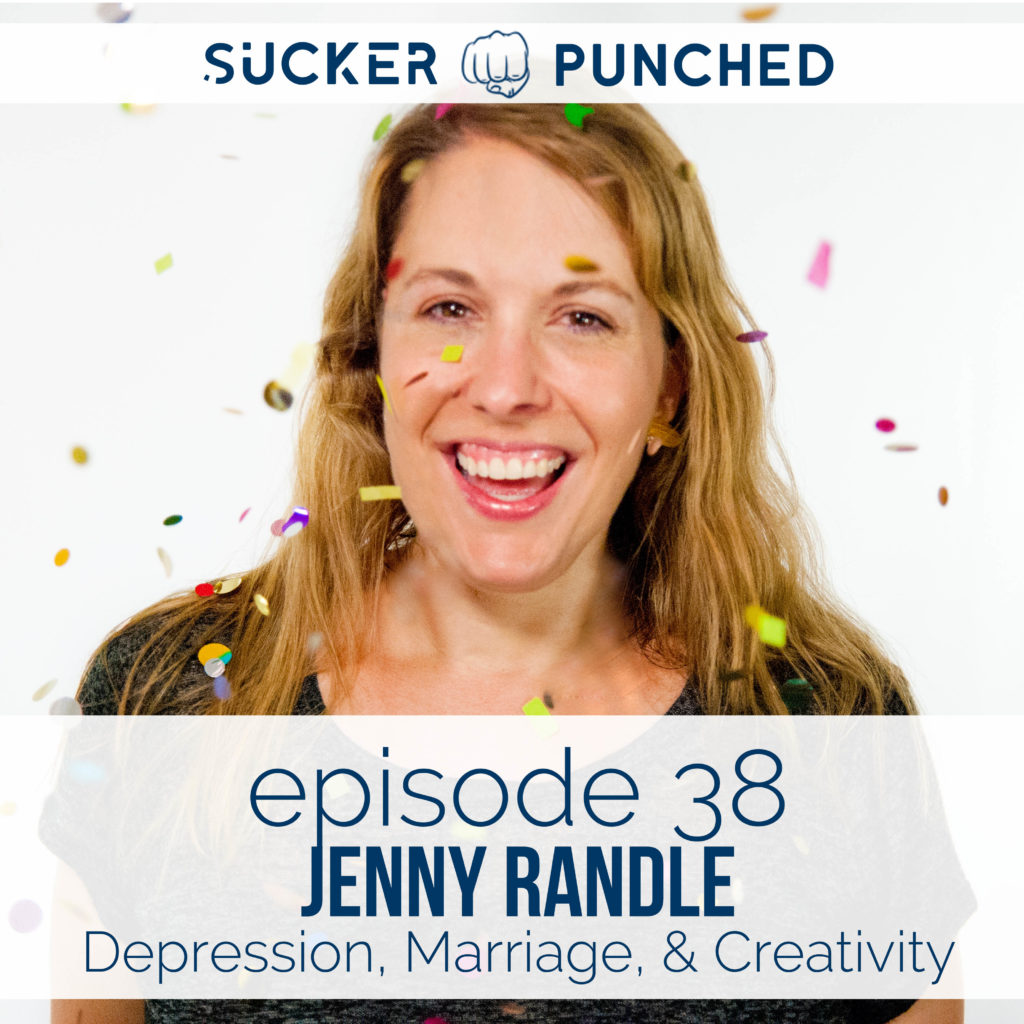 Jenny and her husband Matt have both struggled with depression at different times. As a college student, Jenny was depressed, but didn't exhibit the typical symptoms, so it took a survey at a college mental health fair to realize something wasn't right. Years later, Jenny and Matt were married, had two babies, and moved cross country for a job. The stress of change, plus some undiagnosed health issues, added a tremendous amount of tension to their marriage. Lifestyle changes, counseling, medication, and better self care continue to help them avoid going to the dark place again.
Join Jenny and me at the Brave Together Virtual Retreat from your couch on Saturday 9/9.
Listen to Jenny on The Happy Hour with Jamie Ivey: Ep. 135
Jenny's Answers To The Fun Questions:
What are you loving right now? Spending time with kids
What's your favorite food/meal/snack? Spaghetti, meatballs, and garlic bread
What are you doing to take care of yourself? Time with friends, reading her Bible, and drinking coffee in silence
What are you doing to be brave? Being obedient to what she feels like God is asking her to do
Connect with Jenny:
BLOG: jennyrandle.com
FACEBOOK: facebook.com/jennycreates/
TWITTER: twitter.com/JennyCreates
INSTAGRAM: instagram.com/Jenny.Randle
Connect with Becky:
BLOG: BeckyLMcCoy.com
FACEBOOK: facebook.com/BeckyLMcCoy
TWITTER: twitter.com/BeckyLMcCoy
INSTAGRAM: instagram.com/BeckyLMcCoy
PINTEREST: pinterest.com/BeckyLMcCoy
NEWSLETTER: BeckyLMcCoy.com/email 
Share your Sucker Punched story at BeckyLMcCoy.com/Submissions
Please subscribe to and rate this podcast to help others find Sucker Punched.
NOTE: Sucker Punched is the podcast formerly known as Stories of Unfolding Grace