Ep. 47 – Sarah DeLeo; Parenting, Allergies, & Anaphylaxis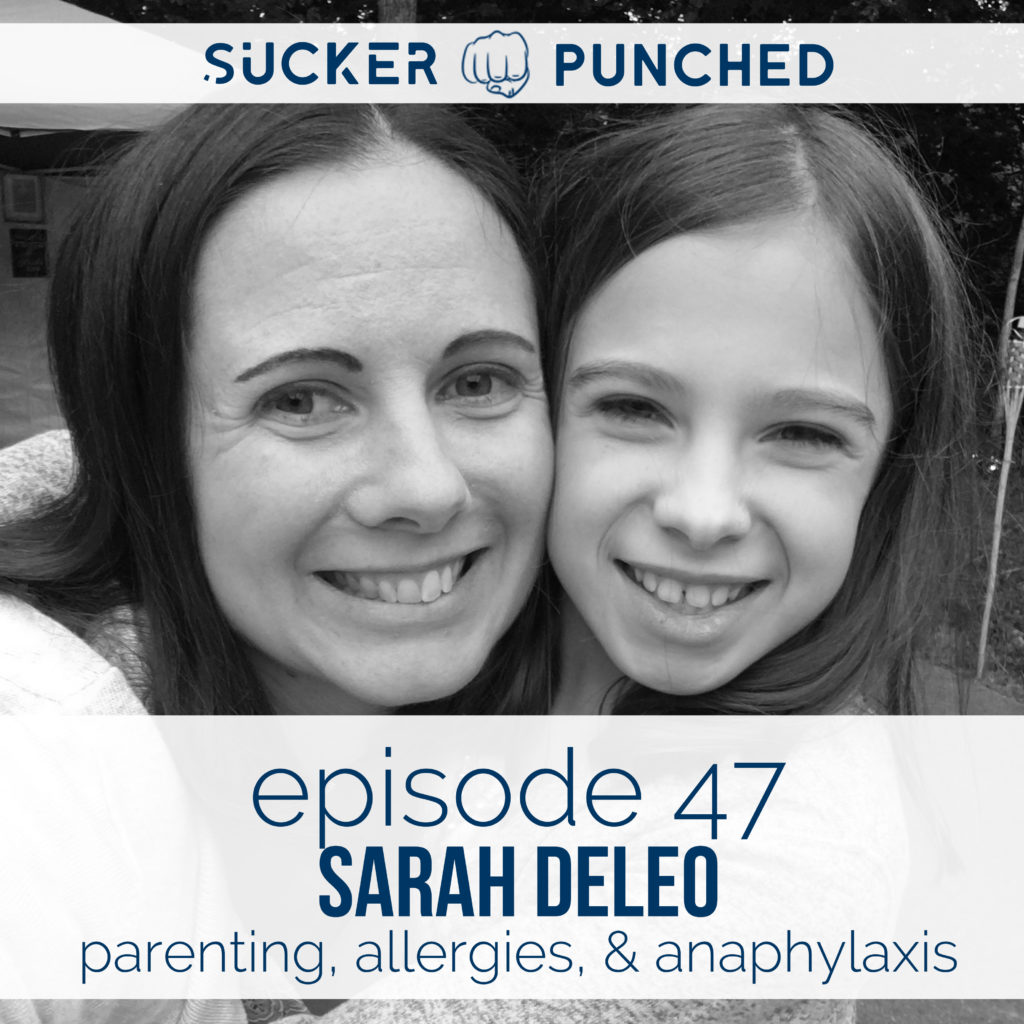 When Sarah's oldest was nine months old, she started showing signs of food allergies. At first it was only hives, but on her 5th birthday, Sarah's daughter had her first anaphylactic reaction. Through allergy testing, Sarah and her husband discovered their child was facing seven severe food allergies. Sarah's anxiety levels skyrocketed as they began learning to navigate the realities of life threatening allergies. The biggest struggle was learning how to manage her own fears without projecting them onto her children. In the years since her daughter's diagnosis, Sarah has developed a strong community with other allergy families and is amazed at how her daughter has learned to see and embrace differences in other children. Sarah strongly encourages families of kids with food allergies to find a community of people who understand the specific challenges and that it's okay to be neurotic.
Sarah's answers to the fun questions:
What are you loving right now?
What's your favorite food/meal/snack?
What are you doing to take care of yourself?
What are you doing to be brave?
Ready to step up your headphone game? Check out Sudio's headphones and get 15% off your purchase with code 'SUCKERPUNCHED15' at BeckyLMcCoy.com/sudio.
Connect with Becky:
BLOG: BeckyLMcCoy.com
FACEBOOK: facebook.com/BeckyLMcCoy
TWITTER: twitter.com/BeckyLMcCoy
INSTAGRAM: instagram.com/BeckyLMcCoy
PINTEREST: pinterest.com/BeckyLMcCoy
NEWSLETTER: BeckyLMcCoy.com/email 
Share your Sucker Punched story at BeckyLMcCoy.com/Submissions
Please subscribe to and rate this podcast to help others find Sucker Punched.
NOTE: Sucker Punched is the podcast formerly known as Stories of Unfolding Grace