#RunLikeKeith Half Marathon Accomplished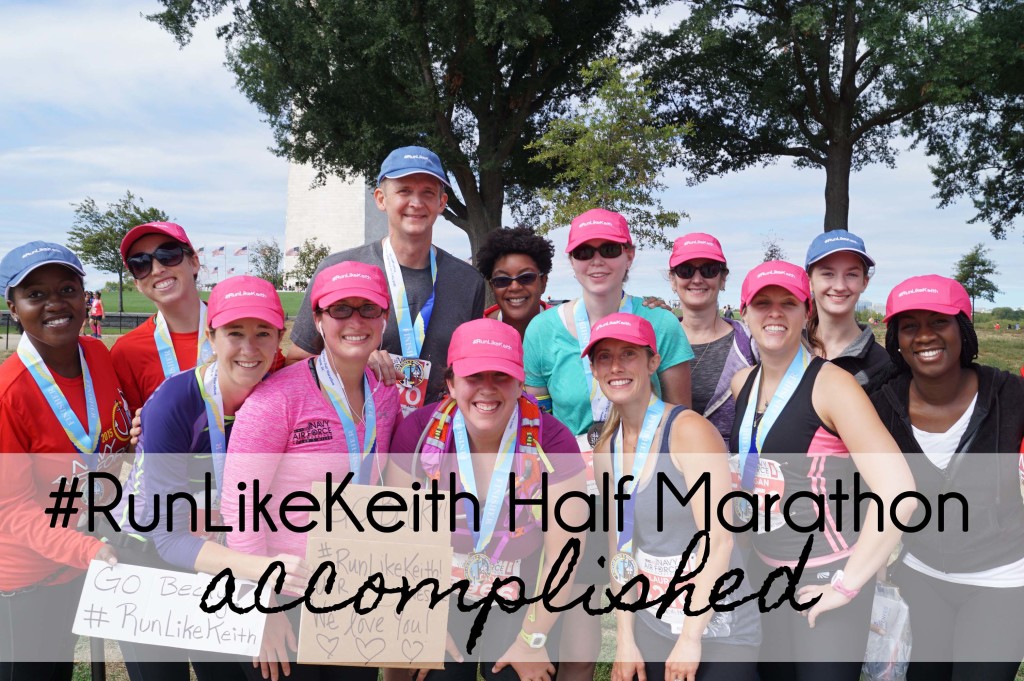 It has been nearly two weeks since I finished the Navy-Air Force Half Marathon and I can't quite seem to convince myself that it really happened.
Sunday, September 20, 2015 was perfect weather for a race. The race started and ended at the base of the Washington Monument and downtown Washington D.C. was buzzing with the excitement of over 8,000 runners. My team and I shared nervous hugs, snapped a few photos, and squeezed into the 12+ minute pace section of the half marathon chute.
Someone sang the National Anthem and I cried.
I caught the Capitol building out of the corner of my eye and all the memories Keith and I made in that city came rushing back and I cried.
I thought about all the Wounded Warriors who were running or riding their modified bicycles and I cried.
And suddenly, it was time to run.
My teammates and I got swept away with the masses and we giggled and chatted and made funny faces for the official photographers as we went by. I was whining since the port-a-potty lines at the start had been too long and I was so ready for the first water station so I could relieve myself. I suddenly understood Keith in a whole new light since he always got made fun of in high school for being last to the starting line for the same problem.
We found a bathroom a couple miles in and I finally felt ready to tackle the beast of a run.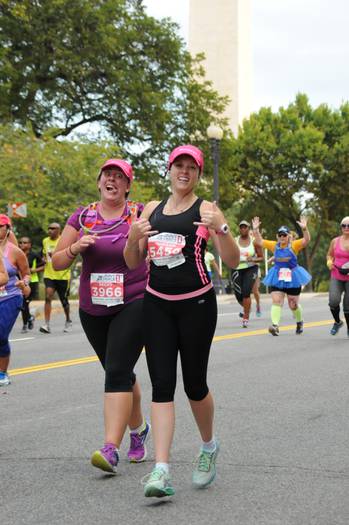 A couple hundred feet later, I started to feel a tingling sensation in my chest and shoulders and all I could say was, "I'm feeling something and I don't know what."
A couple minutes later I realized I was having a panic attack.
I had mentally prepared for every single possible race day scenario but this one. My anxiety had been so well managed that I didn't even have panic attacks when Keith was sick or in the hospital. I hadn't even imagined the race would be enough stress to provoke one.
We stopped for a minute so I could take deep breaths and refocus.
A couple minutes later, another panic attack washed over me. We stopped and I cried and breathed. This happened for the majority of the first six miles. Looking back, I think every time my heart rate got too high or my breathing got too heavy, my mind raced back to Keith in the hospital, struggling to breathe. The flashbacks triggered the inappropriate fight or flight response known as anxiety and my mind and body spiraled out of control.
I am so thankful for my team. At one point or another, they all rescued me. They whispered or yelled, "you're doing great"; when the panic attacks wouldn't stop, they regrouped and developed a new strategy for finishing; they told me stories and made jokes; they ran ahead of me to give me a visual "rabbit" to chase; and they told me that I wasn't crazy, I could do this, and I would cross that finish line and get my medal.
We ran three lamp posts and walked two for the majority of the last 5 or 6 miles and made up other visual markers when the lamp posts disappeared. We walked the water stations. I muttered, "you had a c-section in February" whenever I felt defeated.
When we saw the much faster runners nearing the end of race as we were only hitting half way, my friends were motivated, while I only felt worse. I felt like I was failing and seeing the faster runners tempted me to give in because I could've been doing better. Thankfully, some of those faster runners must have been slower runners at one point because they cheered us on as they passed. One woman yelled across the road, "You go ladies!" and then realized we were 6 ladies and one guy and added, "Oh, and you, sir!".
I never had that rush of adrenaline everyone talks about. I didn't get a second wind. I might've enjoyed the first half mile, but the rest of the race was one foot of awful after another.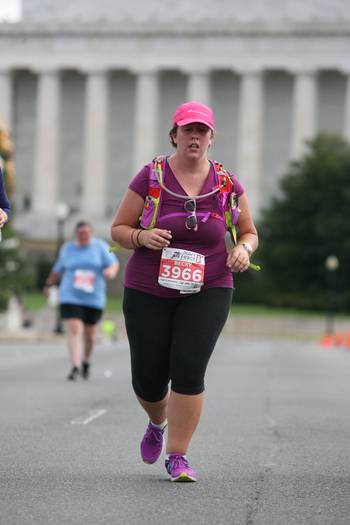 As we passed the 12 mile mark, I knew the end was coming and I started feeling all the feelings stirring up inside of me. Just before the 13 mile mark, a woman who had already finished jumped back onto the course to run with us. We swapped stories quickly and her story was just what I needed to push through to the end: last year her young daughter passed away and she got divorced shortly afterwards. Her grief led her to run and she was in the process of training for a full marathon. She encouraged me to keep going and finish well.
When we rounded the corner to the 13 mile marker, my friend's mom came into view. I almost started to cry. My friend and her mom experienced a great loss earlier this year and they have walked with me every step of my grief journey. Seeing her cheering us on with just one tenth of a mile to go and I knew I was about to complete this impossible goal.
I put my head down, yelled to my team, "let's do this", and broke out into a sprint. We sprinted across the finish together, or at least that's what I thought until I saw the photos later that day.
What I didn't know was my team had planned to cross the finish line just behind me in one straight line. What a perfect illustration of the last nine months of my life: me trudging along, just trying to survive, while my friends, my team, were just behind me, pushing me forward towards the goal.
We finished.
It was over.
I have never been so happy to see my children, except the days they were born.
I gave my running coach a giant hug and told her, "I was right: it was too long, I hated it, and I never want to do that again."
The team had a post-race picnic and shared our race stories with our cheerleaders, ate lots of yummy snacks, and made bets on how long it would be before we moved with ease again. I tugged on my glorious yellow compression socks and my hot pink crocs and paced near the base of the Washington Monument to avoid cramping, my head spinning, attempting to piece together what I had just accomplished.
It was an overwhelming feeling to know that it has been nine months since Keith died. So much has happened. For a few moments, the sorrow and sadness felt too heavy to bear. And then I remembered that I had just finished a half marathon. Just as I had conquered the race I had sworn never to run, I swore to myself that I would conquer widowhood.
And that's exactly what it means to #RunLikeKeith.
Get 3 Truths (And A Lie) for when life is ridiculously hard