Solidarity In Grief: How to Help During Crisis and Tragedy
After the bombing in Beirut and attacks in Paris last week, my heart was so heavy. I've experienced the deep pain of losing someone, but my loss was personal, only one loss at a time, and never because of someone's deliberate actions. I ache for those wading through the first days of grief while still recovering themselves.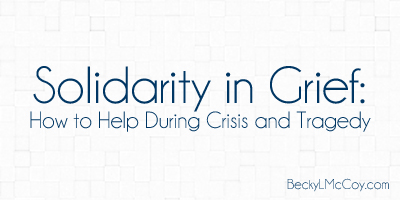 Not long after the attack in Paris hit the news, someone on social media posed the question, "Why #PrayforParis? What has it done for the cause?" It may seem insensitive, but I think it's a question worth considering. Why do we stop and pray, sharing photos to pledge our prayers, when there are so many immediate needs to be met? Why pray when people's lives need protecting and saving?
#PrayforParis isn't just about praying. It is absolutely about asking God to heal broken hearts and bodies and bring peace to a place of such anguish. Our first response should always be to ask God for those things. It isn't always my first response, but it should be.
Pledging prayer for a hurting city, nation, or people is also about showing solidarity. It's saying, "I wish I could help you in a more practical, immediate way, but I can't, so I pray for you." It's making the statement that distance does not mean denial. It means we are aching with you.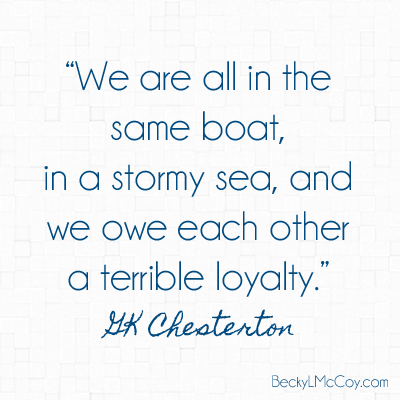 It's this human solidarity that carries the grievers through the grief. All grievers need to be reminded, no matter how much time has passed, that their pain is real and significant. The losses of spouses, children, parents, friends, jobs, homes, and health each rob us of the hopes and expectations we had for our future.
As a griever, it is tempting to feel like everyone has moved on and has better things to do, leaving me to stumble through grief, grasping for something, anything to hold onto. This deep grief is the most alienating and lonely thing I have ever experienced. Solidarity means making a point of letting grievers know they are not forgotten, but reminding them that they are loved and remembered.
Solidarity is saying my heart is with you because there's nothing else I can do to help.
If there is no immediate, physical need to be met in a griever's life, we must not be afraid to say, "I am with you," in whatever capacity we can. We pray for Paris and Beirut, we pray for widows and orphans, we pray for parents who have lost children, we pray for the jobless and the homeless. We send them cards and money for coffee and flowers and texts and emails and leave voicemails that say, "you are not alone in your hurting."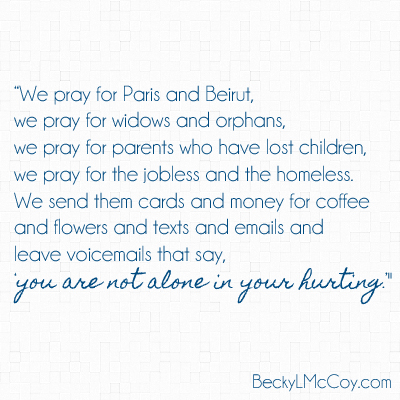 We will all grieve. No one has ever eluded pain. Choosing solidarity in the presence of pain is what brings the hope that is necessary to keep going, despite the unbearable weight of grief.
---
Get exclusive photography tips, family updates, and book recommendations in the monthly newsletter! JOIN HERE
Get 3 Truths (And A Lie) for when life is ridiculously hard