Why I'm Not Asking "Why?!"
It's been exactly four weeks since we found out dad was sick. Since then I've been through the ups and downs of seeing him go through an intense surgery and recover. To complicate my emotions, all of his treatment has occurred in the exact same place where Keith underwent surgery and diagnosis almost exactly 5 years ago. On top of that, I've been living out of a suitcase for 5 weeks and haven't seen Keith in 4. Oh, and did I mention I'm 28 weeks pregnant?!
Good thing I'm on Zoloft.
I have every reason to ask why and to be angry that all this is happening. We spent our engagement with the shadow of cancer looming and now my pregnancy seems to be going the same way. It seems that every time we have a reason to celebrate, there is some disaster or crisis looming. I'll admit that it definitely annoys me, but I'm not angry.
Don't get me wrong, I have been angry in the past. I would even dare say that being angry is healthy – as long as you communicate and deal with it constructively.
"I called on your name, Lord, from the depths of the pit. You heard my plea: 'Do not close your ears to my cry for relief.'You came near when I called you, and you said, 'Do not fear.'" Lamentations 3:55-57
I'm not asking "why" because I know better; I know I'll never get the answer I'm looking for. I know that my perspective on life is not big enough to understand. I know that, good or bad, things have always turned out for my best – I have grown in tremendous ways that I would not have if not for adversity.
This past week on CNN, was an article "The Danger of Asking God Why Me" and it gives an in depth theological argument for why "Why?" is not a question worth asking. It's a good, thought provoking read, but I felt like I still needed to examine some of my own reasons for being at peace with life right now. The following is an excerpt from a "why" related email conversation a few weeks ago:
It's not an easy answer. I've always tried to be strong and tie things up in neat and tidy packages. But I've learned that life is messy and I don't always understand it. God has shown me over the last few months that I have truly learned to stop trying to understand and just trust him.

As a family we've been talking a lot about how we want to handle life at the moment. We have all agreed we want to glorify God; we don't understand or like what's going on, but he has shown us that he is faithful and trustworthy. Here's a list of the things that come to mind:

– Providing a wonderful home, friends, and church for Keith & I in Vegas, not to mention a residency program he really enjoys
– Surrounding mom & dad with people who truly love them and are taking care of them in big and little ways
– Orchestrating and arranging doctor's appointments with prominent physicians quickly
– Protecting our thoughts from fearful thoughts – I'm not even entertaining the "what ifs" because they are not reality

It's taken me a long time to be able to gain this perspective. I was very angry and bitter through Keith's illness and when Grampa G died. I was so angry I didn't even know it; my anxiety got horrible and I was having at least one panic attack a day. After going on Zoloft and going back to counseling I realized that I had not been honest at all. I told God, Keith, my parents, my counselor, and my friends what I was struggling with.

It was really when I read Mary Beth Chapman's book "Choosing To See" that I realized how much I was hurting myself and my relationships by holding on to my anger. Her perspective on tragedy (she lost her youngest daughter in a motor vehicle accident caused by one of her sons) was so honest and transparent. That was the moment when I decided I needed to start healing.

I think a lot of times we redefine "trusting God" to mean that we're closing our eyes and pretending that everything that happens in life is puppies and roses. I've learned that it really means being honest with him; expressing anger and sadness, but remembering that he cares for me. He has demonstrated through my entire life that he cares for me and has my best interest in mind even when I don't agree. He has allowed Keith and I to counsel people in difficult situations because he brought us through them. He has given us the ability to mourn with people in sad times because we have experienced loss. I have seen myself grow tremendously over the last 6 years as we've dealt with one crisis after another.
Don't get me wrong, I've had my share of tears. I have been grieving. I've told God I don't like it or agree with it. But I've also told him that I will trust what he is doing.
"Don't be afraid, for I am with you. Don't be discouraged, for I am your God. I will strengthen you and help you. I will hold you up with my victorious right hand." Isaiah 41:10
In the mean time, I'm taking care of me. I'm serving my parents by updating CaringBridge daily meals, helping with daily organization of meals, hotels, etc., and trying to remind mom to drink water regularly. But these "duties" are all secondary to eating right, exercising, sleeping, resting, and generally taking care of myself and McBaby. I am not preoccupied with what I "should" be doing or "staying strong" or even putting other people's needs before my own. After all, what good am I if I'm so busy taking care of everyone else that I am constantly frazzled?!
"Let all that I am wait quietly before God, for my hope is in him. He alone is my rock and my salvation, my fortress where I will not be shaken. My victory and honor come from God alone. He is my refuge, a rock where no enemy can reach me. O my people, trust in him at all times. Pour out your heart to him, for God is our refuge." Psalm 62:5-8

…

Celebrating Thankfulness today with: Black Tag Diaries, Kate Says Stuff, The Fontenot Four, First Day of My Life, A Punk, A Pumpkin, and A Peanut, and The Ramblings of Mrs. Hargrave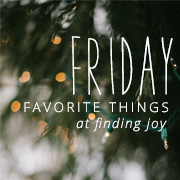 Get 3 Truths (And A Lie) for when life is ridiculously hard