everyday courage
What does it mean to be brave in your regular, everyday life? In this message, Becky will challenge listener's perspectives on what it means to live courageously by equipping them with the five aspects of courage: Affirmation, Integrity, Failure, New Beginnings, and Community. The audience with leave feeling empowered to live bravely.
know who you are
It feels impossible to make decisions in your personal and professional life when you're not even sure why you're making those choices. Becky will help the audience see why it's important to know who you are and allow your strengths, weaknesses, and passions to inform what you do. Audience members will leave your event feeling like they have something significant to contribute to their community and workplace and encourage the people around them to be confident about who they were created to be.
uncomplicated hospitality
Why do we feel so much pressure to make our home and our gatherings Pinterest perfect? In this message, Becky debunks the myth that hospitality is about beautiful venues and fancy food (although, those are definitely fun!) and encourages audience members to view hospitality as an opportunity to create space in their lives for people and to let them know they belong. The audience will leave your event with practical tools for planning gatherings that will encourage deeper conversation and more intimate and vulnerable relationships.
other topics
Becky also speaks on the following topics:
Anxiety and depression
Grief
Community building
Challenges in life that feel impossible
Speaking Engagements
If you're interested in booking a speaking engagement, please send me an email at hello [at] BeckyLMcCoy.com, or contact me through the form below. I look forward to connecting with you and your group!
✕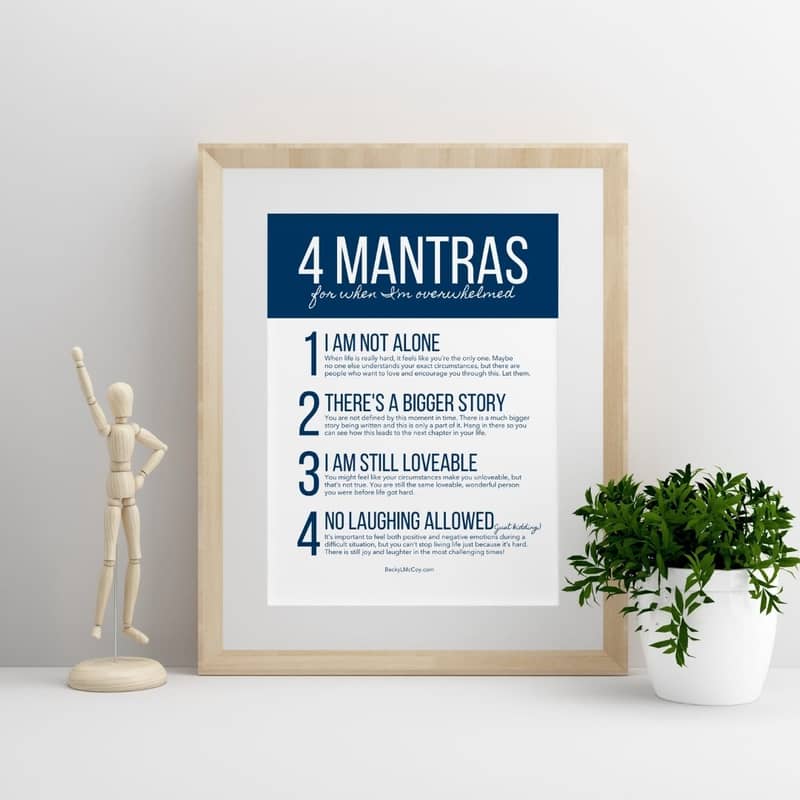 Get 4 Mantras For When I'm Overwhelmed