Ep. 13 – Laura Fleetwood; Wonder Woman, Breakdown, & Hope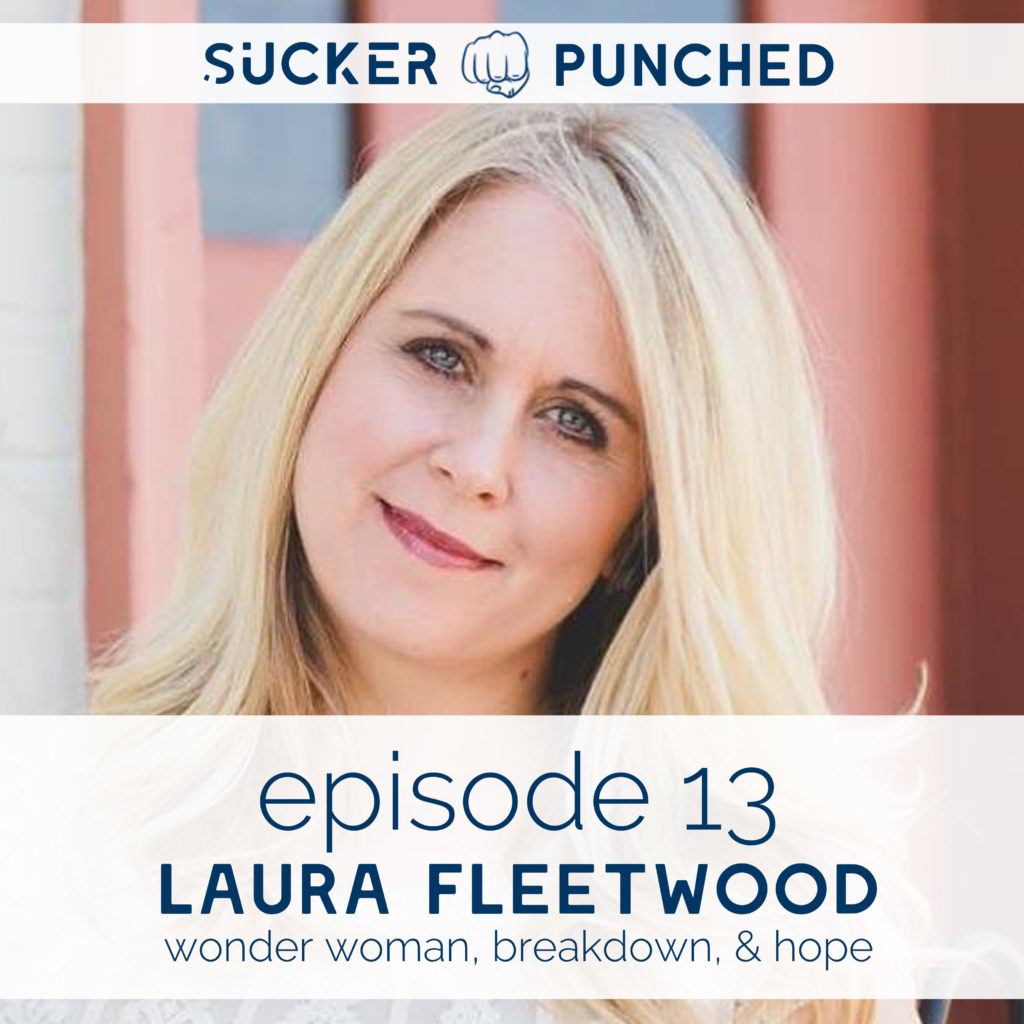 Meet Laura, a high achiever and writer at Seeking The Still. She was always able to meet every challenge and had a reputation of being super woman. She had such a high capacity for stress that she was able to get it all done without asking for help. Two years ago, she was chairing a school fundraiser when she experienced her first panic attack, quickly followed by a deep depression. Since then, Laura has found hope through counseling and learning to ask for help. She encourages people to ask for help, too, and reminds others who struggle with anxiety and depression that "there is always hope." Laura encourages the other "wonder women" out there to look closely at their priorities and reevaluate how they are using their time and energy.
My brokenness is a better bridge for people than my pretend wholeness ever was."

– Sheila Walsh
Laura's Answers To The Fun Questions:
What are you loving right now? Goodwill and thrift shopping
What's your favorite meal right now? Avocado with salt and pepper
What are you doing to take care of yourself? Ultra relay race
What are you doing to be brave? Being sensitive and obedient to how she feels God is leading her
Connect with Laura:
BLOG: SeekingTheStill.com
FACEBOOK: facebook.com/SeekTheStill
TWITTER: twitter.com/seekingthestill
INSTAGRAM: instagram.com/seekingthestill
Connect with Becky:
BLOG: BeckyLMcCoy.com
FACEBOOK: facebook.com/BeckyLMcCoy
TWITTER: twitter.com/BeckyLMcCoy
INSTAGRAM: instagram.com/BeckyLMcCoy
PINTEREST: pinterest.com/BeckyLMcCoy
NEWSLETTER: BeckyLMcCoy.com/email 
Share your Sucker Punched story at BeckyLMcCoy.com/Submissions
Please subscribe to and rate this podcast to help others find Sucker Punched.
NOTE: Sucker Punched is the podcast formerly known as Stories of Unfolding Grace