Ep. 17 – Andy Hayes; Burnout, Confidence & Plum Deluxe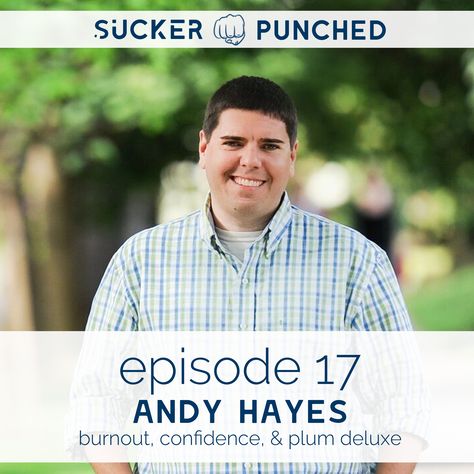 Meet Andy, founder and owner of Plum Deluxe, a loose leaf tea company with specialty blends and a tea of the month club. Andy's professional career began in Europe as an IT specialist for an American company based abroad. Through a series of events, he was hired by a different company and relocated to Scotland. His work environment in the new job was difficult, even hostile. The stress he was experiencing at work manifested itself as migraines and other physical symptoms and Andy began to withdraw into himself. He started meeting with a group of entrepreneurs who helped him to create space and find perspective. He ended up quitting his job and, eventually, moved back to the United States. Several years later and he is running a successful tea company. He has also created a community that is a safe harbor for learning what it means to live a life you love. Andy has developed an awareness of his emotional wellbeing through the difficult years of uncertainty. He encourages people in difficult work environments to create some space, to take care of yourself, and to be confident that you can choose to make a change.
Order yourself some tea and join Andy's tea of the month club at PlumDeluxe.com
Andy's Answers to the Fun Questions:
What are you loving right now? The hot tub at his new house
What's your favorite meal right now? Scones, shortcakes, and other baked goods
What are you doing to take care of yourself? Pilates
What are you doing to be brave? Taking risks and trying new things as inspired by Brene Brown's book Rising Strong
Connect with Andy:
BLOG: PlumDeluxe.com
FACEBOOK: facebook.com/PlumDeluxe
TWITTER: twitter.com/PlumDeluxe
INSTAGRAM: instagram.com/PlumDeluxe
PINTEREST: pinterest.com/plumdeluxe/
Connect with Becky:
BLOG: BeckyLMcCoy.com
FACEBOOK: facebook.com/BeckyLMcCoy
TWITTER: twitter.com/BeckyLMcCoy
INSTAGRAM: instagram.com/BeckyLMcCoy
PINTEREST: pinterest.com/BeckyLMcCoy
NEWSLETTER: BeckyLMcCoy.com/email 
Share your Sucker Punched story at BeckyLMcCoy.com/Submissions
Please subscribe to and rate this podcast to help others find Sucker Punched.
NOTE: Sucker Punched is the podcast formerly known as Stories of Unfolding Grace