Ep. 25 – Debbie Wilkins Baisden; Young Widow, Grief, & Remarriage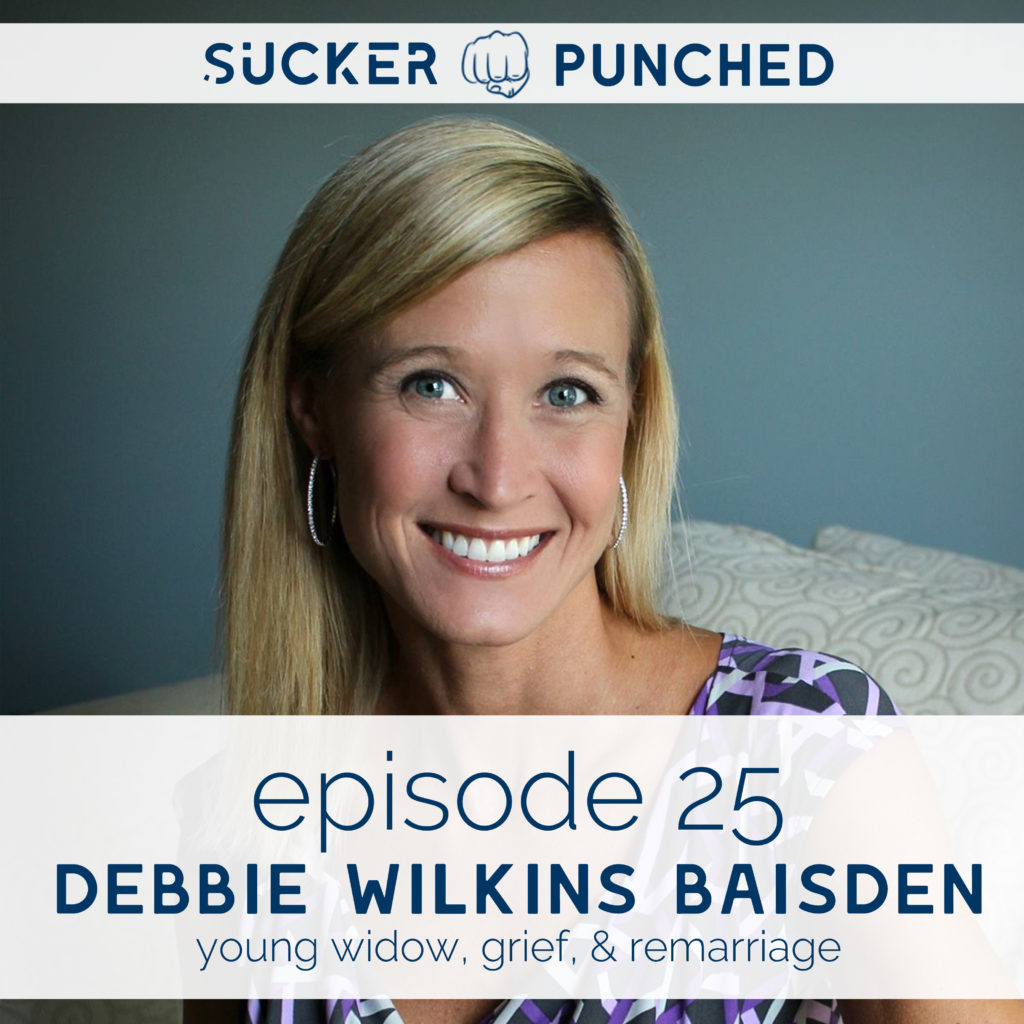 Meet Debbie, a mom of four and fitness and nutrition expert, who lost her husband in a sudden, tragic accident. While her and her four sons were on vacation, her husband stayed home to work on some projects. When she hadn't heard from him all day, she began to get nervous. After sending out an official search party, his body was found in the woods near the school where he worked. Debbie was suddenly forced to learn to live and parent without her husband. Debbie has seen grace through cards, gift cards, and prayers from strangers and encourages those who are grieving to "feel the feelings". Even after getting remarried, Debbie says her grief hasn't disappeared, but she's thankful that her husband is a long-time family friend who can help her boys learn about their dad.
Debbie's Answers To The Fun Questions:
? What are you loving right now? Food (see next)
? What's your favorite meal right now? Bojangles, pizza, Smirnoff (she loves sugar)
? What are you doing to take care of yourself? Fitness and nutrition (ironically)
? What are you doing to be brave? Wanting to be shoved out of her comfort zone
Connect with Debbie:
BLOG: projectmomsanity.com and DebbieWilkinsBaisden.com
FACEBOOK: facebook.com/momsanity
TWITTER: twitter.com/momsanitysisters
INSTAGRAM: instagram.com/momsanitysisters
PINTEREST: pinterest.com/momsanity1
Connect with Becky:
BLOG: BeckyLMcCoy.com
FACEBOOK: facebook.com/BeckyLMcCoy
TWITTER: twitter.com/BeckyLMcCoy
INSTAGRAM: instagram.com/BeckyLMcCoy
PINTEREST: pinterest.com/BeckyLMcCoy
NEWSLETTER: BeckyLMcCoy.com/email
Share your Sucker Punched story at BeckyLMcCoy.com/Submissions Please subscribe to and rate this podcast to help others find Sucker Punched.
NOTE: Sucker Punched is the podcast formerly known as Stories of Unfolding Grace