Ep. 29 – Adrienne Terrebonne; Adoption, Deployment, & Autism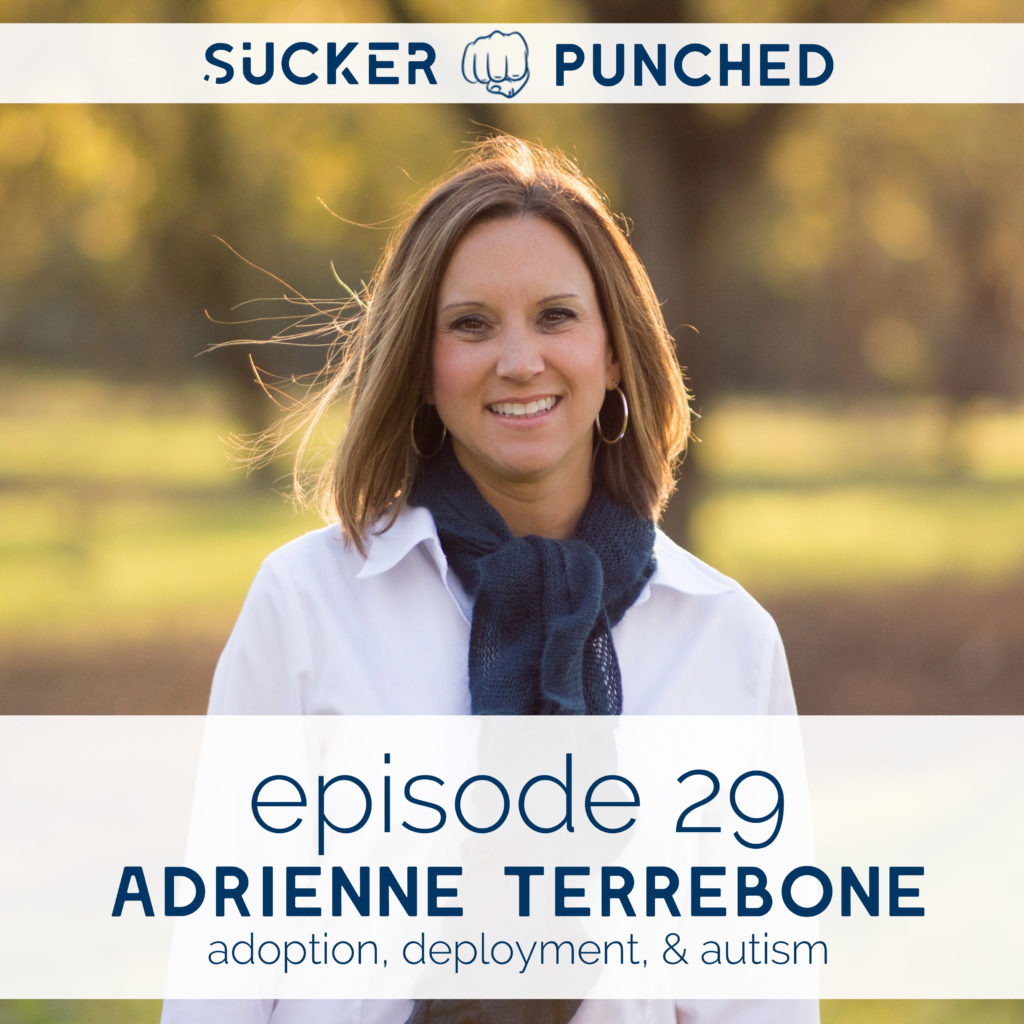 Meet Adrienne, an adoptive mom and autism advocate. Her family watched as two international adoptions fell through and they lost all of the money they had saved to put towards those children. They decided to take a break from trying to add to their family since their infertility issues and adoption disappointments were devastating. After they moved to another Air Force base and her husband had deployed, she got a phone call from their social worker, saying a family had picked them to adopt their baby. Adrienne and her daughter drove nine hours to pick up the baby when he was born and seven months later, her husband returned from deployment and they loved every moment of being a "complete" family. Around her son Jonah's first birthday, Adrienne got pregnant and they moved again. Shortly afterwards, Jonah started exhibiting developmental delays and was diagnosed with autism. Adrienne saw grace in the support she received from her friends and family through emails, texts, and prayers through figuring out Jonah's needs. Adrienne encourages people dealing with a child's difficult diagnosis to find a support group that can help you identify the next right steps for you and your child. "It's okay to be sad," Adrienne says, when life doesn't turn out how you expect.
Adrienne's Answers To The Fun Questions:
? What are you loving right now? Beth Moore's novel "The Undoing of Saint Silvanus" and Kimberly Williams Paisley's memoir "Where the Light Gets In"
? What's your favorite food at the moment? Anything chocolate and pumpkin in the fall, especially pumpkin spice muffins (a box of spice cake mix and a can of pumpkin baked per instructions for cupcakes on box)
? What are you doing to take care of yourself? Making time for exercise
? What are you doing to be brave? Being a diplomat for Jonah at school and working as a team with his teachers
Connect with Adrienne:
BLOG: blessedbeyondexhaustion.com
FACEBOOK: facebook.com/blessedbeyondexhaustion
Connect with Becky:
BLOG: BeckyLMcCoy.com
FACEBOOK: facebook.com/BeckyLMcCoy
TWITTER: twitter.com/BeckyLMcCoy
INSTAGRAM: instagram.com/BeckyLMcCoy
PINTEREST: pinterest.com/BeckyLMcCoy
NEWSLETTER: BeckyLMcCoy.com/email
Share your Sucker Punched story at BeckyLMcCoy.com/Submissions Please subscribe to and rate this podcast to help others find Sucker Punched.
NOTE: Sucker Punched is the podcast formerly known as Stories of Unfolding Grace