Ep. 32 – Niki Hardy; Colon Cancer, Vulnerability, & Accepting Help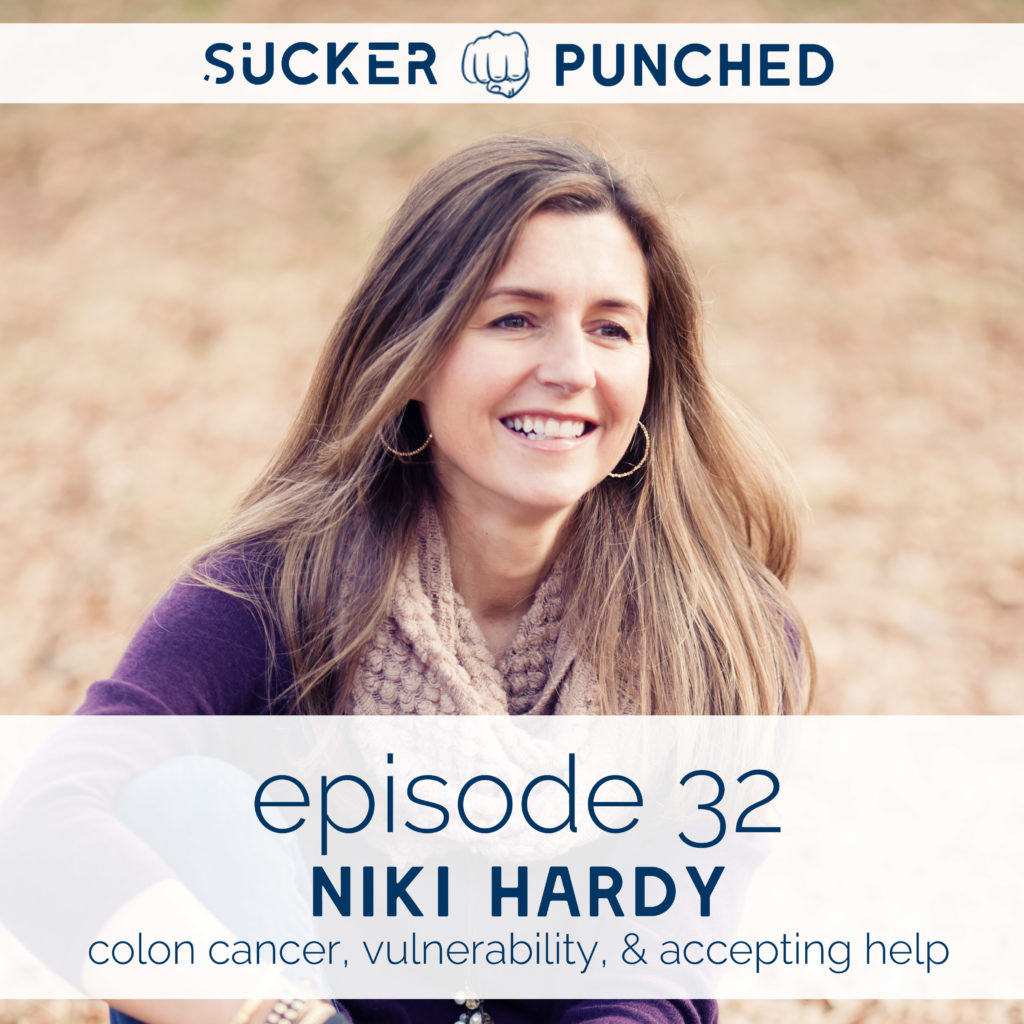 Niki found herself with a rectal cancer diagnosis only a few short years after losing both her mother and sister to different cancers. She knew her disease was not terminal, but the diagnosis was enough for her to be faced with very real fears and a lot of anger. Her family had only moved to the United States two years earlier, so they were still building community when she was diagnosed and they certainly felt like outsiders with their obvious British accents. Niki and her husband decided to handle the situation with complete vulnerability: they were honest with their kids and talked openly with the congregation where her husband was the pastor. They coped with humor and had to make difficult decisions about how they would fight for their marriage or allow the stress to drive them apart. Niki saw grace as she realized how known and loved they were by their community in North Carolina – they were surprised by how deeply people cared for them and were willing to step into the mess cancer had created in their life. Niki is cancer free now and continues to live vulnerably and openly and lean into the the hard stuff; even though vulnerability can feel like weakness, she no longer believes that "if you're strong, nothing is wrong." Niki wants to encourage people who are facing a huge challenge in life to remember that you don't "have to wait to feel joy or beauty again…There's joy and beauty in the middle of it." She encourages leaders to model authenticity and be intentional about helping people and stresses the importance of helping leaders by initiating doing kind and helpful things.
Niki's Answers To The Fun Questions:
? What are you loving right now? Coaching her daughter's lacrosse team.
? What's your favorite food/meal/snack? A cup of tea with a flapjack (an English granola bar). Try Niki's flapjack recipe at NikiHardy.com/recipes
? What are you doing to take care of yourself? Not enough. Trail running with the dogs and reading when she leaves time.
? What are you doing to be brave? A podcast! Writing and blogging with vulnerability (and thankful for groups like Hope*Writers that encourage and support community)
Connect with Niki:
BLOG: NikiHardy.com
FACEBOOK: facebook.com/NikiHardyauthor
TWITTER: twitter.com/NikiBHardy
INSTAGRAM: instagram.com/Niki.Hardy
Connect with Becky:
BLOG: BeckyLMcCoy.com
FACEBOOK: facebook.com/BeckyLMcCoy
TWITTER: twitter.com/BeckyLMcCoy
INSTAGRAM: instagram.com/BeckyLMcCoy
PINTEREST: pinterest.com/BeckyLMcCoy
NEWSLETTER: BeckyLMcCoy.com/email
Share your Sucker Punched story at BeckyLMcCoy.com/Submissions Please subscribe to and rate this podcast to help others find Sucker Punched.
NOTE: Sucker Punched is the podcast formerly known as Stories of Unfolding Grace