Ep. 34 – Caroline Harries; Infertility, Waiting, & Living Life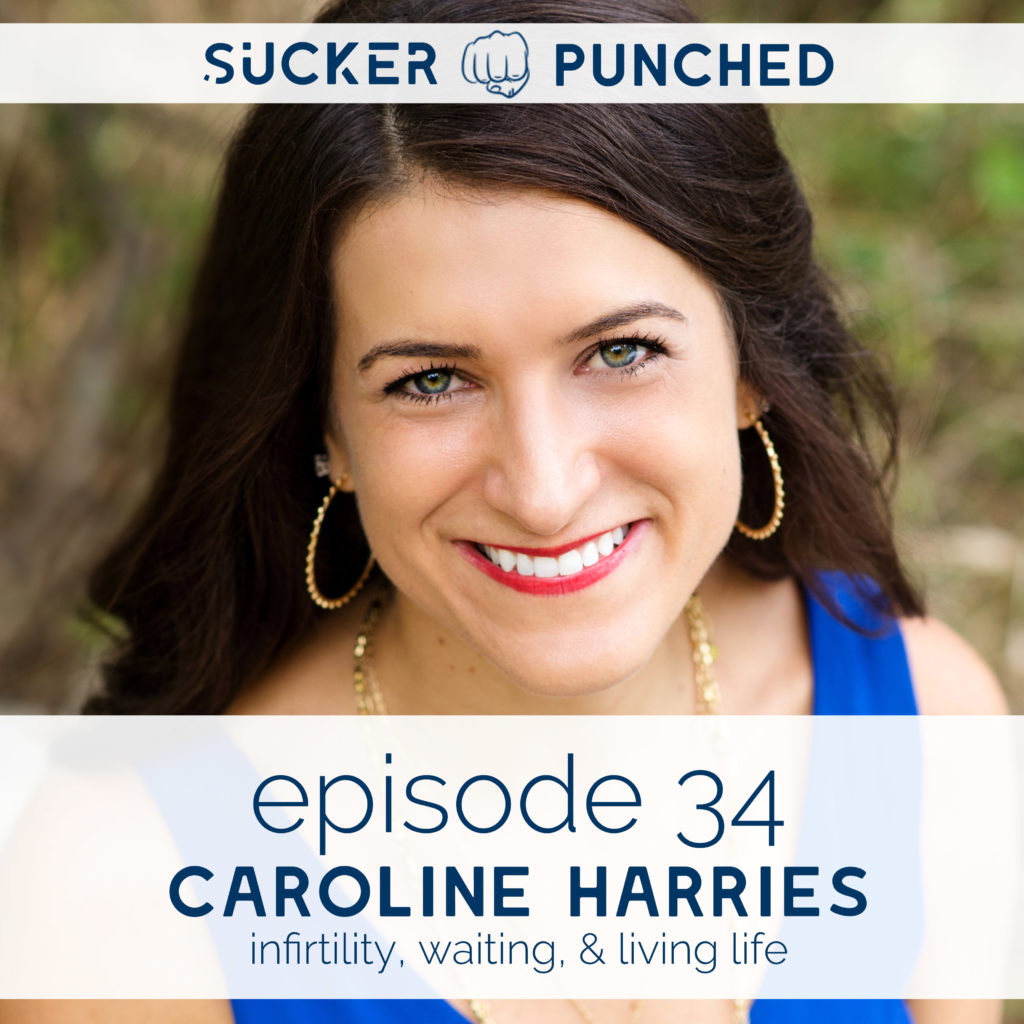 Caroline, writer of the In Due Time devotional and leader of the Moms in the Making infertility groups, has faced a tremendous number of challenges over the last decade. She was diagnosed with disembarkment syndrome, a vertigo-like neurological condition, lost her two-year-old nephew to a pediatric brain cancer, and has faced unexpected infertility. In all of the grief and lost expecatations, Caroline is remarkably positive. She says that infirtility is, "grieving the idea of what you thought your life would look like," which is hard and messy and painful, but even in the middle of the pain, she chooses to believe that God is still good. Caroline sees grace in God's presence and her experiencing peace, joy, and freedom even while life is hard. She chooses to be brave by being vulnerable, open, and honest with her story and her struggles. Caroline encourages others who are waiting or are discouraged to remember that God is good and that challenging times in life can help refine and develop our character.
Join Caroline's online Moms in the Making infertility group on Facebook and get 15% off the In Due Time Devotional with code 'unfoldinggrace15' at InDueTimeDevotional.com.
Caroline's Answers To The Fun Questions:
What are you loving right now? 80 degree weather in Dallas!
What's your favorite food/meal/snack? Almond butter and salads
What are you doing to take care of yourself? Eating healthy, exercise, and trying to get sleep
What are you doing to be brave? Moms in the Making Conference
Connect with Caroline:
BLOG: in-due-time.com
FACEBOOK: facebook.com/trustinginduetime
TWITTER: twitter.com/trustinduetime
INSTAGRAM: instagram.com/trustinginduetime
Connect with Becky:
BLOG: BeckyLMcCoy.com
FACEBOOK: facebook.com/BeckyLMcCoy
TWITTER: twitter.com/BeckyLMcCoy
INSTAGRAM: instagram.com/BeckyLMcCoy
PINTEREST: pinterest.com/BeckyLMcCoy
NEWSLETTER: BeckyLMcCoy.com/email 
Share your Sucker Punched story at BeckyLMcCoy.com/Submissions Please subscribe to and rate this podcast to help others find Sucker Punched.
NOTE: Sucker Punched is the podcast formerly known as Stories of Unfolding Grace