Ep. 36 – Leah Heffner; Marriage, Conflict, & Hugs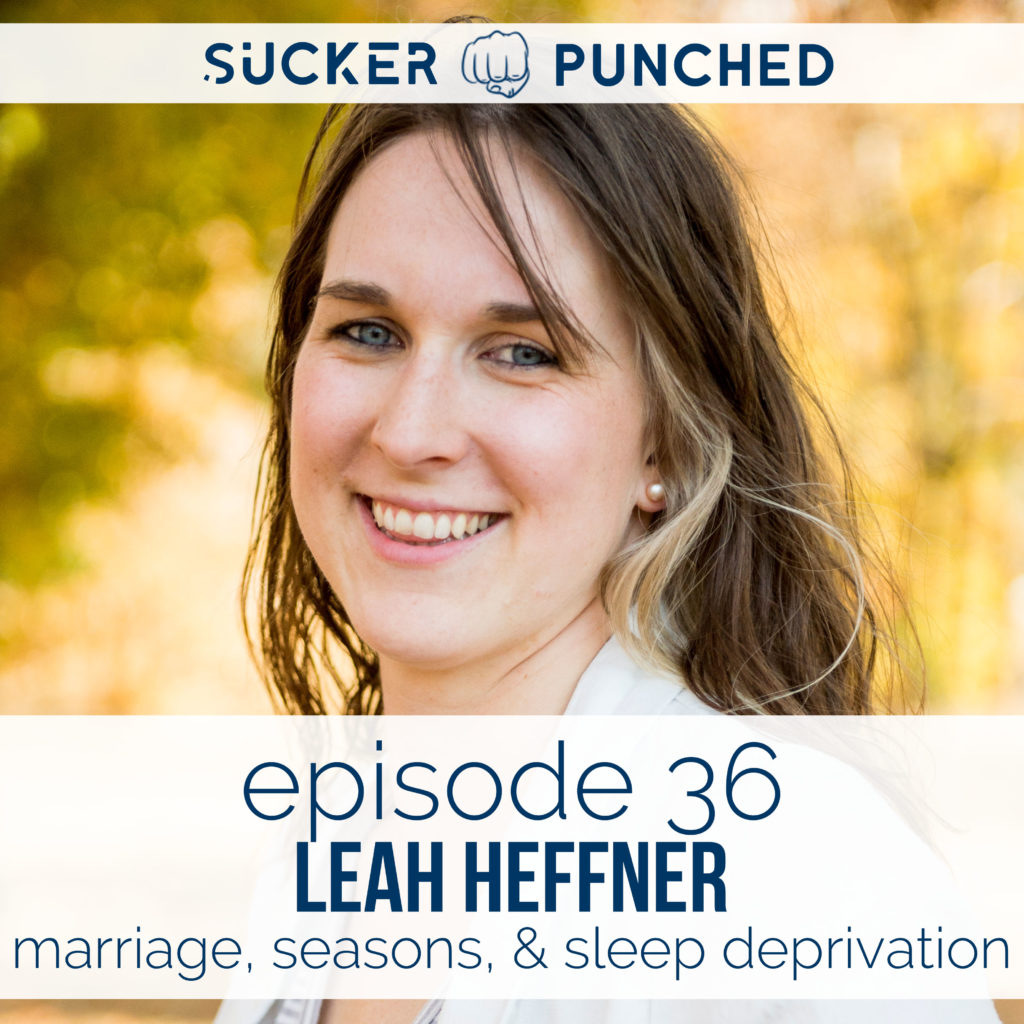 Leah writes about marriage, not because she has all (or many) of the answers, but because her and her husband Matt have faced a serious season of crisis in their marriage. Leah said she wasn't nagging, but she spent a lot of time complaining about life. They faced health problems, had a new baby, were sleep deprivation, fought colic, and spent a lot of complaining and arguing. They chose to learn from the experience and now work together to help other couples make intentional choices to care for each other and nurture their marriage.
Leah's Answers To The Fun Questions:
? What are you loving right now? 5yo reading independently, 3yo adult in a little boy's body, 16mo ham, spring in Tennessee, and getting to work with her husband.
? What's your favorite food/meal/snack? All the things (she's pregnant), but especially Chipotle. (Leah's favorite Chipotle hacks: https://www.buzzfeed.com/dartanionlondon/how-to-hack-your-chipotle-order?utm_term=.jv3oExg442#.okP64rEGGq)
? What are you doing to take care of yourself? Joined a gym!
? What are you doing to be brave? Writing a book (buy your copy here: https://theredoakcollective.com/collections/all-products/products/intentional-love-31-ways-marriage-bundle?aff=15)
Connect with Leah:
BLOG: LeahHeffner.com
FACEBOOK: facebook.com/LifeAroundTheCoffeeCup
TWITTER: twitter.com/LeahHeffner
INSTAGRAM: instagram.com/LeahHeffner
Connect with Becky:
BLOG: BeckyLMcCoy.com
FACEBOOK: facebook.com/BeckyLMcCoy
TWITTER: twitter.com/BeckyLMcCoy
INSTAGRAM: instagram.com/BeckyLMcCoy
PINTEREST: pinterest.com/BeckyLMcCoy
NEWSLETTER: BeckyLMcCoy.com/email 
Share your Sucker Punched story at BeckyLMcCoy.com/Submissions
Please subscribe to and rate this podcast to help others find Sucker Punched.
NOTE: Sucker Punched is the podcast formerly known as Stories of Unfolding Grace