Ep. 42 – Amanda Phillips; Depression, Bipolar, & Honesty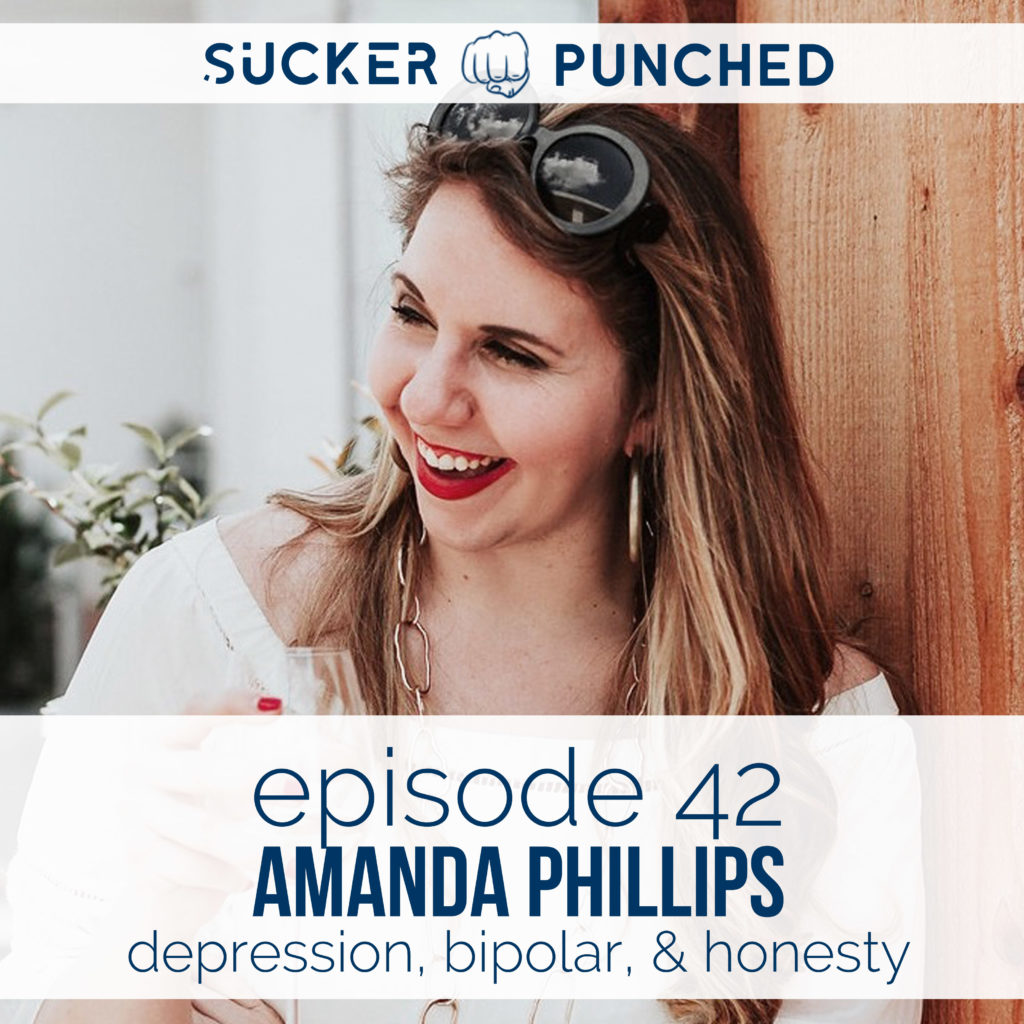 Amanda, a counselor and mental illness advocate, struggled with grief and suicidal ideations. She was diagnosed with major depressive disorder and thought maybe her struggles were over. Yet, she continued to face numbness and found any passion she once had was gone. Eventually, she was diagnosed with Bipolar Type 2 (also known as hypomania); the more accurate diagnosis, medication, and counseling finally began to give her some relief. Amanda encourages anyone struggling with mental illness or other hard life moments to be honest with people and allow them to help. "It's okay to struggle," she says.
Amanda's Answers To The Fun Questions:
What are you loving right now? Diet Coke and blasting live folk music (especially the Avett Brothers)
What's your favorite food/meal/snack? Chicken burrito, no pico, all rice on the side
What are you doing to take care of yourself? Slowing down: less work, more music.
What are you doing to be brave? A TED Talk proposal
Connect with Amanda:
WEBSITE: helloamandaphillips.com
FACEBOOK: facebook.com/helloamandaphillips
INSTAGRAM: instagram.com/helloamandaphillips
Connect with Becky:
BLOG: BeckyLMcCoy.com
FACEBOOK: facebook.com/BeckyLMcCoy
TWITTER: twitter.com/BeckyLMcCoy
INSTAGRAM: instagram.com/BeckyLMcCoy
PINTEREST: pinterest.com/BeckyLMcCoy
NEWSLETTER: BeckyLMcCoy.com/email 
Share your Sucker Punched story at BeckyLMcCoy.com/Submissions
Please subscribe to and rate this podcast to help others find Sucker Punched.
NOTE: Sucker Punched is the podcast formerly known as Stories of Unfolding Grace