The Worst Part of Being a Single Mom is the Exhaustion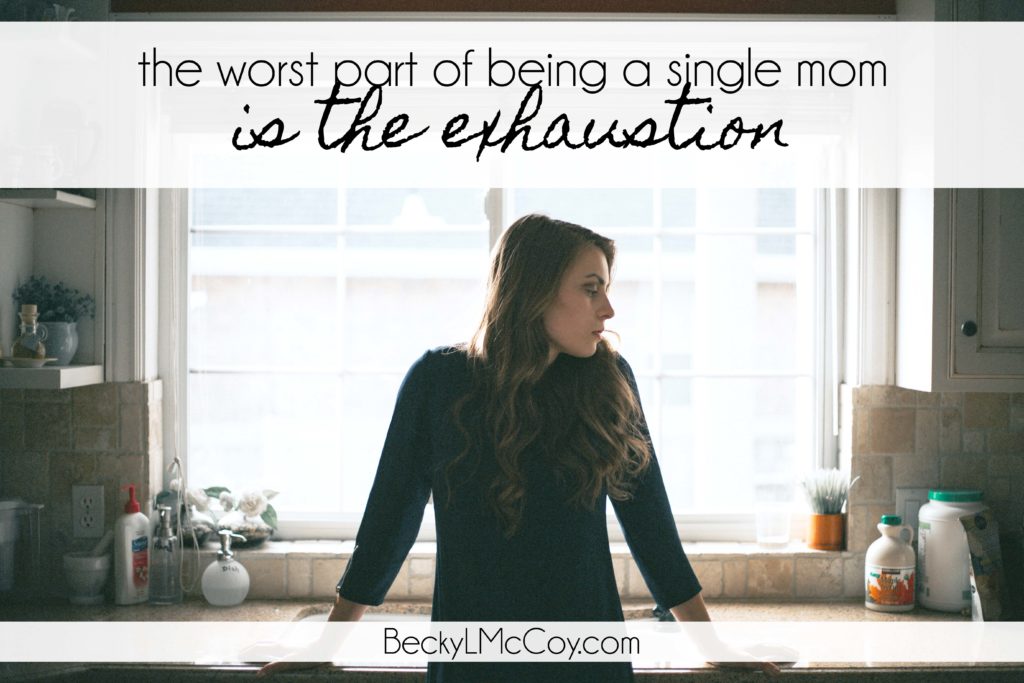 Being a single mom never gets easier. I've got my ways of coping – preschool and playdates help this introverted mama recharge and stay on top of the to do list – but there isn't much wiggle room for when the schedule gets turned upside down.
Last week, there was a snow day. I knew right away that I had to avoid social media, because snow days here aren't fun and seeing everyone's happy snow men does not help me have a better attitude. I was already beyond exhausted after a couple weeks of children up in the middle of the night and waking up much earlier than they should. My tank was empty with almost no time to myself when a certain 4-year-old has decided to take at least an hour to go to sleep each night. I was pouring more energy out than I was recouping. A snow day meant no school for my extreme extrovert. Snow also seems to magically rob my children of the ability to listen.
It was a perfect storm. The kids seemed to have a decent day, but I was miserable.
To be quite honest, this complete exhaustion, frustration, and discouragement is not reserved for the perfect-storm-snow-days.
Week days aren't so bad. We have a routine. The extroverts have planned in time with lots of people. The introvert (me) has scheduled time to be alone. Bedtime and nap time are sacred in our house and even the extrovert-iest extrovert is beginning to believe that his mama needs at least a few minutes to herself to function throughout the day and love him well. We enjoy the time we have together and I have the time I need to get the work, errands, and to-do's taken care of without feeling like I'm constantly working, taking care of the house, and caring for other people. It's far too easy to run out of time for self care.
Weekends are the absolute worst.
Without the structure of the week, we all start to go a little crazy. It's hard to make plans — for most of our friends, the weekends are when they get their family time and I don't want to interrupt or take away from that. Most people are gracious in helping us when they can and even inviting us into their family time, but at the end of the day, everyone goes back to their own lives and I'm left to keep the proverbial balls in the air. Alone.
Sure, I could hire a babysitter more than the two evenings a week I already have one. I could call a friend to help out when the stuff hits the fan by 9am. I could ask for more help if it were that easy.
Finding someone to watch the kids or a place for them to go play for an hour feels like a herculean task. Who to ask changes based on the day and time of day. I have to keep track of who I asked last so I don't overburden any one or two people. I have to keep track of people's work schedules and family schedules so I know when people are even available to be asked. I always seem to figure out a solution. Really, though, finding a solution is not the problem.
The fact that I constantly have to find childcare is probably more exhausting than the not sleeping. I have to find childcare just to get the time and space to recharge.
In my over-tired, running on empty, stupor, I'd rather step on 1,000 legos than have to find another babysitter just to sleep without getting woken up or spend time with friends without kids in tow or to exercise without having clothes yanked at.
I know that moms everywhere are tired. There are women with husbands who work long hours. Heck, there are women who work long hours and then head home to another full time job. There are moms whose husbands are deployed. There are moms who are sick, who have sick kids, or sick parents. I'm not minimizing the experience of any mom, we all have our challenges.
But, sometimes I want to climb on the top of my roof and yell until the whole world hears, that one person doing the work and the parenting and the loving and the laundry-folding of two people is impossible. It takes a village, as they say (I don't know who "they" are, but they knew what they were talking about). Unfortunately, it usually takes more resources and energy than I've usually got available to figure out who and when and where to make the help happen.
I'm not complaining. I'm doing the best that I can with what I've got. I love my kids and our life is pretty wonderful considering the challenges. But at the end of a really long day, I'm alone and I'm tired. And I'm tired of being so exhausted.
---
Do you feel like you're struggling to get through a difficult time? Get your F R E E copy of
3 Truths (and a lie) For When Life Is Ridiculously Hard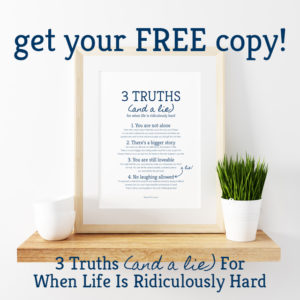 ✕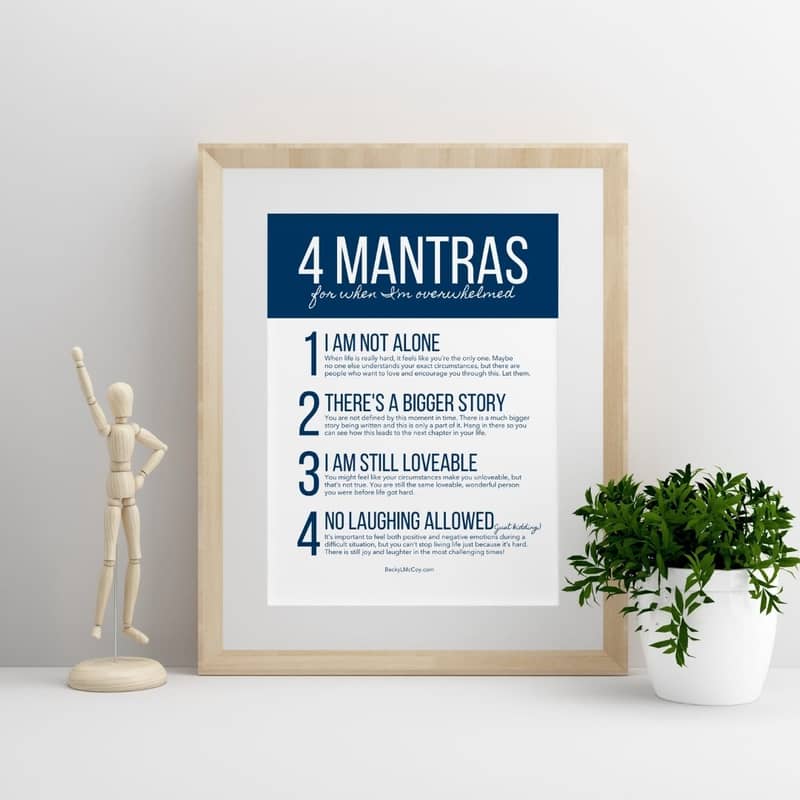 Get 4 Mantras For When I'm Overwhelmed