For When You're Overwhelmed, Hopeless, and Inadequate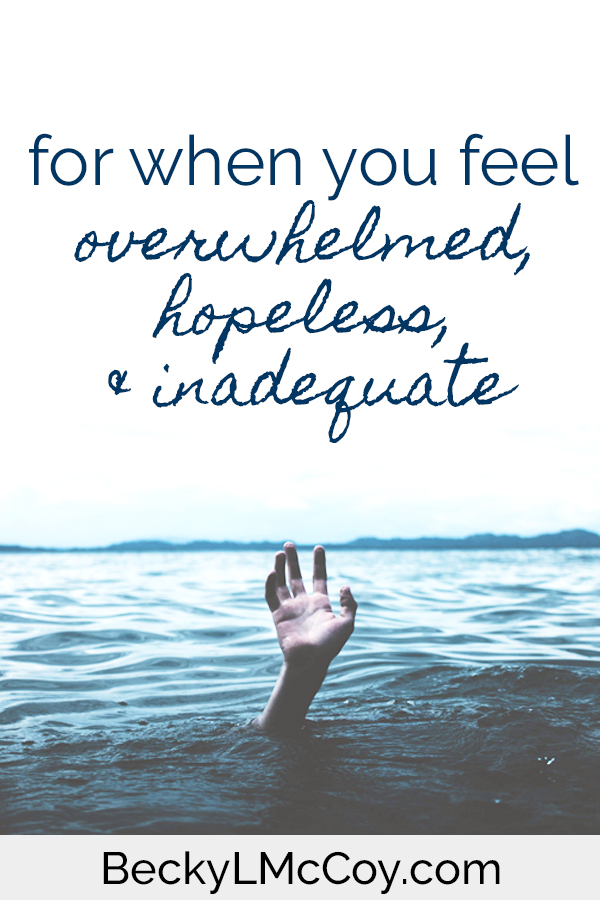 Sometimes I feel overwhelmed, hopeless, and inadequate.
On Thursday, we were late in bringing Caleb to school. We had spent the morning in a three-year-old vs. mom battle of the ages where he wouldn't eat breakfast or get dressed. None of my usual convincing tricks worked and we both ended up frustrated and in tears. He went skipping into school as I was still fuming over how poorly I felt I handled the situation and how angry I'd let myself be with him.
The week before, the three of us were quarantined due to a pink eye outbreak and it was almost my undoing. Being stuck at home with two little extroverts and no social outlet was exhausting and the house looked something like a tornado had touched down and destroyed everything but the walls of our house.
I felt like after our week of quarantine, I was feeling overwhelmed and the morning of fighting left me feeling more than exhausted.
Then I found out a friend's husband passed away and I saw the pieces of me fall into a pile on the floor. Broken feels like a polite word. Hopeless feels more accurate.
When life piles up and feels like it won't get easier, I default to hopeless. When I'm overwhelmed, I have a hard time believing that something good could be just around the corner. I struggle to feel that I'll ever be enough for my kids when I'm so prone to anger.
Overwhelmed. Hopeless. Inadequate.
I hate the feeling like I'm just treading water and not really living. I always want to be moving forward, achieving, and growing into a new, better version of myself. These days and weeks of overwhelming struggle feel like failure.
Overwhelmed. Hopeless. Inadequate.
When so many hard things are piling up, I can't see the good things. I want things to be only good for awhile. I want a season of easy. When another hard thing comes along, my hope for good and easy vanish and turn into discouragement.
But I should know better than to hope for good and easy. I know that life will be good and hard. Life will be difficult and easy. The good is only wonderful because of the hard and the easy is only achievable because I've conquered the difficult.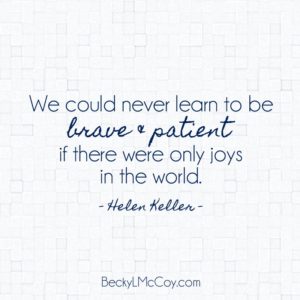 I still feel inadequate, struggle to choose hope, and often feel like life is more than I can handle. And then on days like today, I hear a song that got me through one of the hardest seasons of my life. When Keith was sick and just after he died, Matt Redman's song 'Never Once' was on repeat in my brain and it became a mantra in my life.
Standing on this mountaintop
Looking just how far we've come
Knowing that for every step

You were with us

Kneeling on this battle ground
Seeing just how much You've done
Knowing every victory
Is Your power in us

Scars and struggles on the way
But with joy our hearts can say
Yes, our hearts can say

Never once did we ever walk alone
Never once did You leave us on our own

You are faithful, God, You are faithful

[Never Once, Matt Redman]
In my darkest days, I felt God's presence so tangibly. When I'm in a moment of hopelessness, I hold on to that and choose to hope that I'll feel it again one day.
If you're feeling overwhelmed, hopeless, or not enough, hang in there. Let's be brave together and choose to believe that hope will rise up in us again.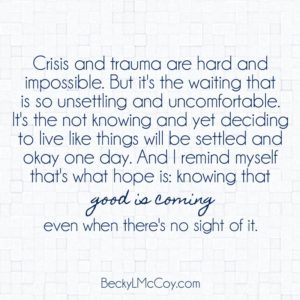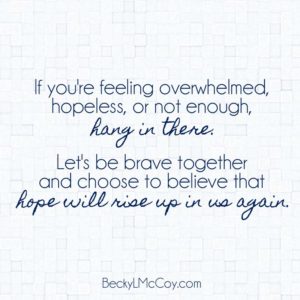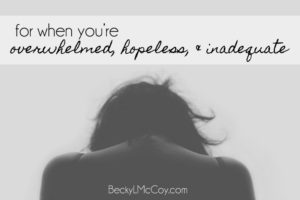 ---
Enjoyed this post? Sign up for my newsletter and you'll get each new post directly to your inbox! SUBSCRIBE HERE
✕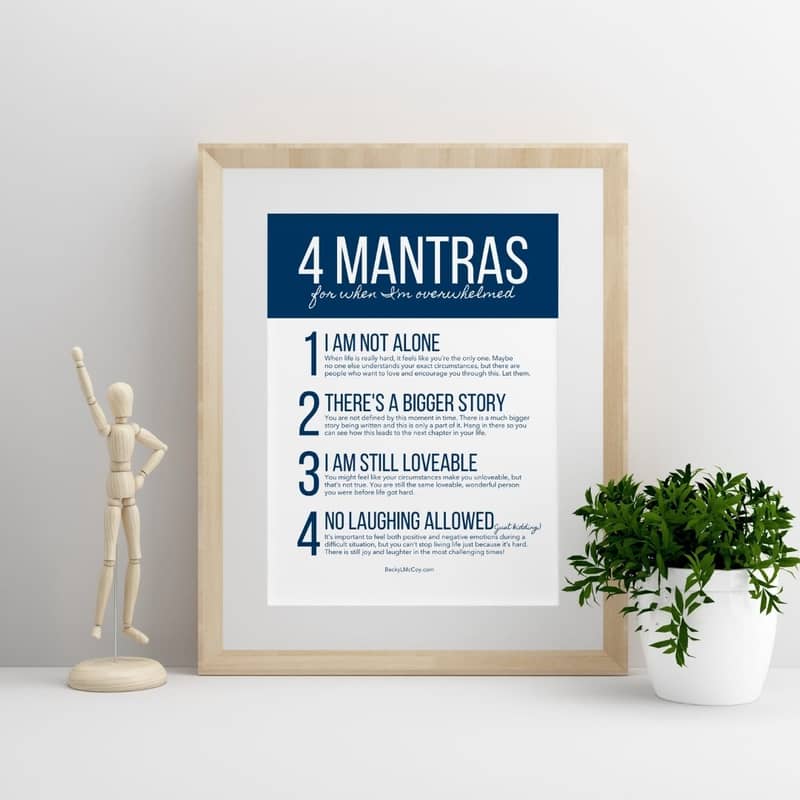 Get 4 Mantras For When I'm Overwhelmed