For When Grief Hits You From Out of Nowhere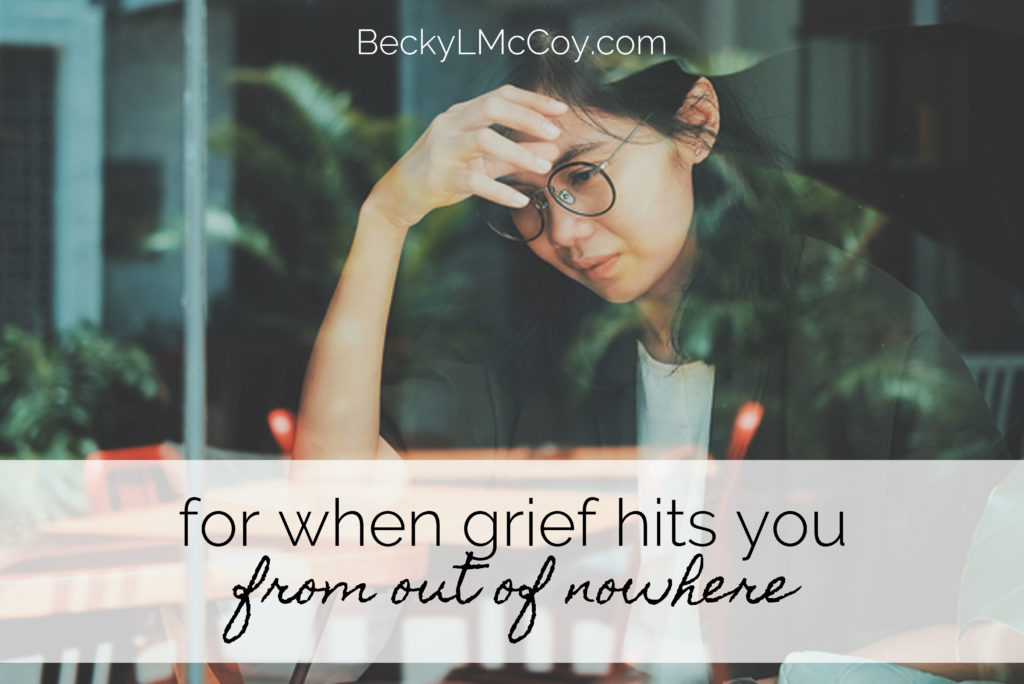 It's been almost four years since my husband died. I'm mostly doing great. I still get sad sometimes. Other times I'm disappointed or angry that this is my real life. But, on the whole, life is good. We've found new routines and ways of doing things. We feel settled. I skirt the edge of grieving, single-mom burn out less often than I have in the last three years. The kids are remarkably well adjusted. We laugh a lot.
Some days the grief is heavier than others, but on a day-to-day basis, grief feels more like an extra shadow following me than the ginormous rain cloud that has hovered over me in the past. It helps to get enough sleep, keep up with my anxiety/depression meds, take supplements and eat well to keep my hormones balanced, find things to do that are purely fun, etc. I don't think about the grief every day, but every now and then, I'm reminded how profoundly loss has changed my life.
Last week, I was minding my own business, getting words written, doing laundry, feeding children (as you do), and suddenly my mood crashed faster than a hungry toddler.
Usually, when my mood shifts in any extreme direction, it's just part of my cycle (ladies, I know you understand me). PMS is usually accompanied by a mild depression that only lasts and few days and runs like clockwork. I assumed my sudden melancholy was my body just giving me a head's up, but I realized the timing was all wrong. I checked the calendar and confirmed that it was a couple weeks too early to be hormonal.
And then it hit me.
Mid-October.
My mood has changed on the day Keith started feeling sick four years ago. It took my brain three days to catch up.
And I was reminded that my body often remembers trauma better than my mind.
My body remembers the extreme stress that began mid-October 2014 and every mid-October since, it reacts in the same ways it did the first time, even if there is no current trauma.
This is exactly what makes grief so hard: time certainly takes the edge off the pain of loss (as long as you're doing the work required to heal), but every now and then, you hit a brick wall like a wrecking ball.
I used to try and push my way through the wall or to scramble up and over the fallen bricks as quickly as possible. What I've realized is that grief requires I slow down and take inventory if I want to heal even just a little bit. So, as I carefully stack the fallen bricks and clear a pathway forward, I've realized there's a pattern to how I evaluate my grief:
Personal Inventory For When Grief Hits You From Out of Nowhere
1. Check for injury: what is the most painful part of my grief right now? What needs tending to?
2. Adjust expectations: what is my capacity right now? Is there anything I need to say no to? Is there anything I need to ask for help with?
3. Identify and meet needs: am I getting enough sleep? Am I using food to fuel my body or to avoid the yucky feelings?What do I need most right now?
I'm not perfect at this. It's a learning curve, but the more effort I put into improving my ability to care for myself and identify my needs, the less devastating of an impact a grief wall has on me.
There's no prescriptive list of "10 Things You Can Do To Make Grief Easier" because it's an process of discovery. Every person is different. Every loss is different. Every healing process is different. But I've included a few things I find helpful. I hope they'll inspire you to find your own tools for navigating a season of heavy grief.
When grief is heavy, I need levity. I read lots of light hearted fiction (I am generally NOT a fan of chick lit, but when I'm on the edge of depression, I can't get enough. So weird.). If it will make me laugh, I will consume it. I may or may not be currently planning to binge the 2006 season of Saturday Night Live. If it's not lighthearted or funny, it doesn't happen and I strictly limit my input of stressful, dramatic, or traumatic things. This applies to visual stimulus especially. When I'm down, I watch fewer shows and movies listen to audiobooks constantly.
When I am really sad, I need to feel physically safe in order to let down my guard and really feel the sadness. I stay home more often because being surrounded by four walls is less scary than the boundary-less outdoors (even if I know the fresh air will help). I sleep a lot more – not out of lethargy or depression, but because I don't sleep well at night and grief is exhausting. Plus, my bed is super cozy and I put a high priority on coziness. You'll find me in soft clothes made of cotton with some hot tea under my weighted blanket with either an acoustic guitar or jazz playlist playing quietly.
A lot of these habits have developed organically. When you're sad there are just certain things that feel better than others. My friends Ben & Jerry know a thing or two about that (in all honesty, though, I'm learning to find emotional comfort in non-food things).
It has been difficult, but I've had to learn is to let my people know how I'm feeling. Grief is isolating. It's easy to feel like everyone has moved on and forgotten my pain. And so I never thought to ask someone to share the pain with me. Now that I'm learning to, it has lightened the emotional load in ways I couldn't have anticipated. When I sent an SOS message to my friends last week, they went into automatic Girls Night planning mode. They love on my kids (and me) and find little and significant ways to pitch in and help. They ask about Keith, they remind me it's okay to feel sad, and they get just as annoyed as me that the sadness often seems to come from out of nowhere and without warning. Even if it's a quick text that says, "today is bad," a need someone else to help carry this burden with me. The grief and sadness feel just a bit lighter when I know I'm not alone.
If you're still grieving, if you still have triggers, you're not a failure. This is the exact thing that makes grief so difficult: it doesn't end and it's always changing. I'm not saying that it doesn't get easier or that it always hurts as deeply as it does right now, but that grief is not at all what we expect it to be and it's okay to figure it out as we go.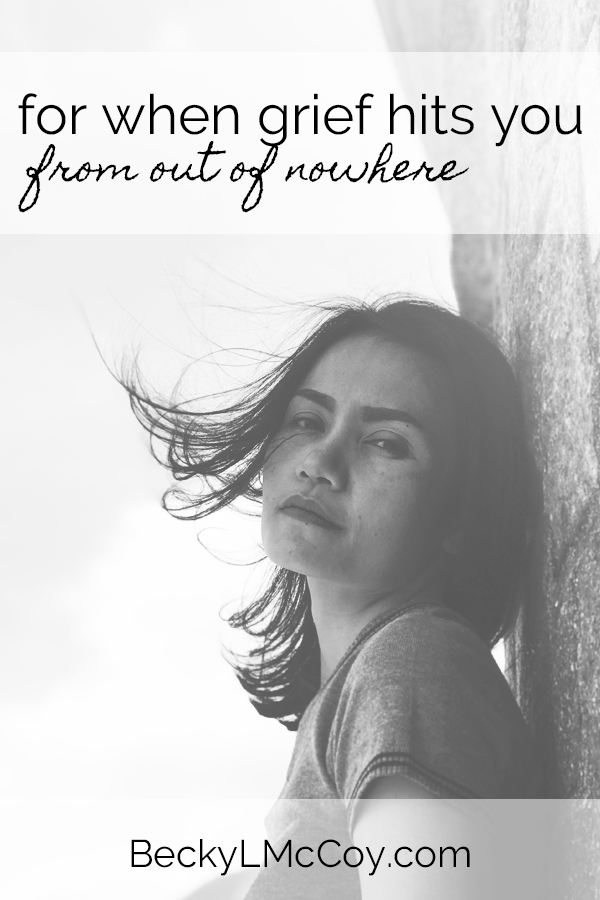 ✕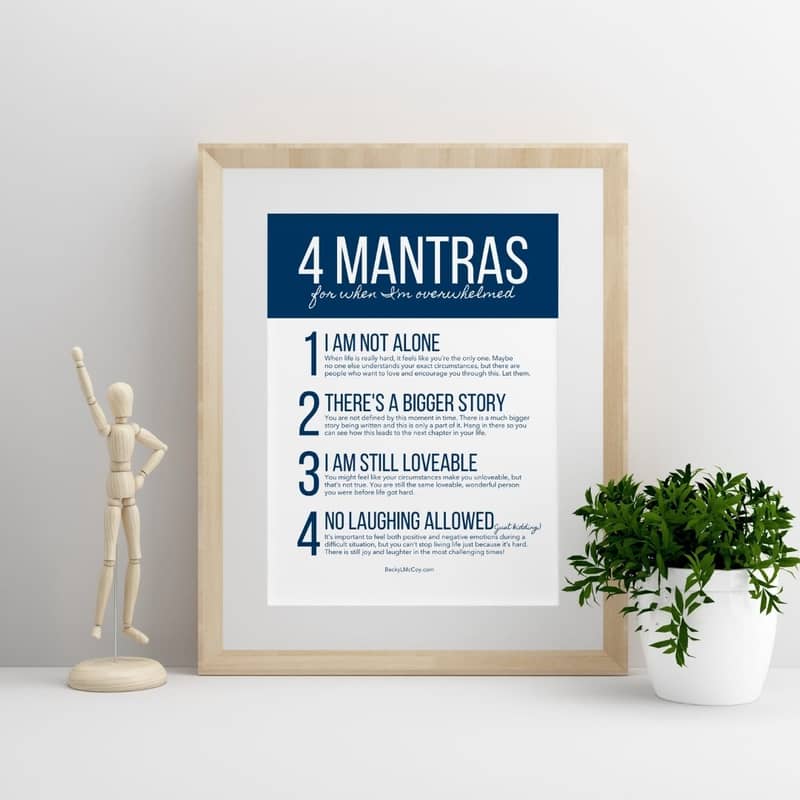 Get 4 Mantras For When I'm Overwhelmed