Ep. 07 – Heather Bender; Unplanned Pregnancy, Denial, & New Purpose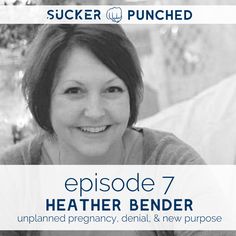 Heather, a mom of four, shares her story of a sexual assault that ended in pregnancy. She battled shame, denial, and depression, but, as a result, found purpose and direction for her life.
Heather's Answers to the Fun Questions:
What are you loving right now? Finding new opportunities for writing and sharing her story. Meeting new writers friends and seeing her journey as a writer unfold.
What's your favorite meal right now? There's nothing a bowl of spaghetti and red sauce can't fix.
What are you doing to take care of yourself? Taking time where she can to reflect on life and write about it.
What are you doing to be brave? Writing and sharing her story, not knowing how people will respond.
Connect with Heather:
BLOG: HeatherDBender.com
FACEBOOK: facebook.com/heatherdbender
TWITTER: @DFHK_blog
Connect with Becky:
BLOG: BeckyLMcCoy.com
FACEBOOK: facebook.com/BeckyLMcCoy
TWITTER: twitter.com/BeckyLMcCoy
INSTAGRAM: instagram.com/BeckyLMcCoy
PINTEREST: pinterest.com/BeckyLMcCoy
NEWSLETTER: BeckyLMcCoy.com/email 
Share your Sucker Punched story at BeckyLMcCoy.com/Submissions
Please subscribe to and rate this podcast to help others find Sucker Punched.
NOTE: Sucker Punched is the podcast formerly known as Stories of Unfolding Grace