Ep. 46 – Heather Dixon; Ehlers Danlos Syndrome, Perspective, & Sustainable Choices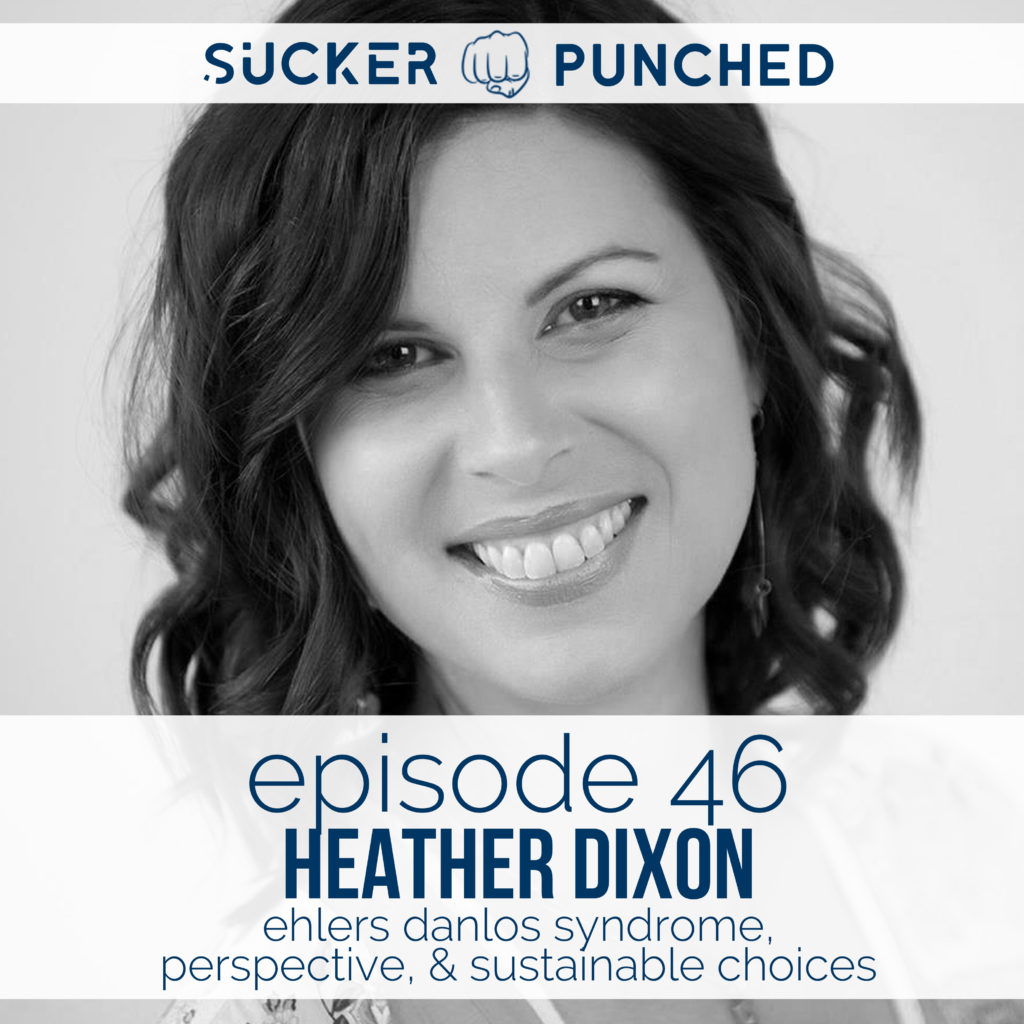 Heather was diagnosed with Vascular Ehlers Danlos Syndrome, the same autoimmune disease her mom died from. Heather began to grieve the loss of the life she expected to live and was afraid of how the disease will impact her family, but realized she had the opportunity to make sustainable choices and manage her disease. As her perspective shifted, she started exploring what it means to live with courage. Heather says we need to talk about, "the type of courage when you put two feet on the floor on a morning when you don't like your story."
Heather's answers to the fun questions:
What are you loving right now? Chocolate chip cookie dough paired with fruit – bananas or apples:)
What's your favorite food/meal/snack? My grandma's chicken and pastry and the 14 vegetables that go with it
What are you doing to take care of yourself? Daily power naps or at least daily resting moments
What are you doing to be brave? Conquering my fear of facebook live, lol!
Connect with Heather:
BLOG: therescuedletters.com
FACEBOOK: facebook.com/rescuedletters
TWITTER: twitter.com/rescuedletters
INSTAGRAM: instagram.com/rescuedletters
Connect with Becky:
BLOG: BeckyLMcCoy.com
FACEBOOK: facebook.com/BeckyLMcCoy
TWITTER: twitter.com/BeckyLMcCoy
INSTAGRAM: instagram.com/BeckyLMcCoy
PINTEREST: pinterest.com/BeckyLMcCoy
NEWSLETTER: BeckyLMcCoy.com/email 
Share your Sucker Punched story at BeckyLMcCoy.com/Submissions
Please subscribe to and rate this podcast to help others find Sucker Punched.
NOTE: Sucker Punched is the podcast formerly known as Stories of Unfolding Grace