9 Tips for a Quiet and Simple Holiday Season
Each Christmas season is an exceptional one. It's another Christmas without Keith. Caleb is always so excited for this season: he runs around wearing his Santa hat and I often find him sitting and staring at the Christmas tree. Libby adores Santa and all of the silly Christmas movies (although, she's quite offended the Grinch would steal Christmas). As the kids get older, it's easy to get dragged into the fast pace of the holidays, but I'm determined to be intentional with what the holidays look like for us.
I am so glad that I've made a habit of choosing quiet over the last few years.
In order to enjoy each day, it is important to me to keep life simple and with all of the conflicting emotions this holiday season, simplicity has become a rule. So this advent season, I am choosing to keep my schedule and our home quiet and simple.
In the silence of a midwinter dusk, there is far off in the deeps of it somewhere a sound so faint that for all you can tell, it may be only the sound of the silence itself. You hold your breath to listen. You walk up the steps to the front door. The empty windows at either side of it tell you nothing, or almost nothing. For a second you catch a whiff in the air of some fragrance that reminds you of a place you've never been and a time you have no words for. You are aware of the beating of your heart. The extraordinary thing that is about to happen is matched only by the extraordinary moment just before it happens. Advent is the name of that moment. (Frederick Buechner)
In this spirit of keeping the quiet mystery of advent, here are my 9 Tips for a Quiet and Simple Holiday Season: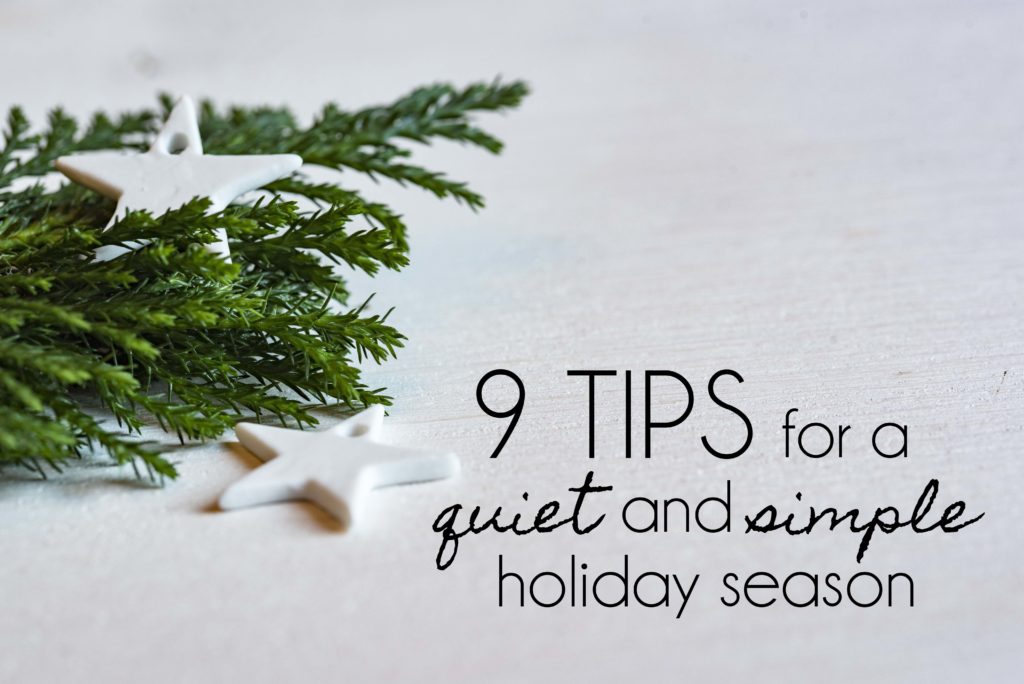 1. Accept Less Invitations
I always used to feel like more was more. If we pack more into the holiday season, we will enjoy it more and it will be more special. But you know what? Ever since I started accepting less invitations and only doing a few special events, I enjoyed them more. Leave yourself time for rest and you'll enjoy what you do say yes to more.
2. Admit You Can't Do It All
Realistically, you can not do every fun thing. Every event and tradition takes time and there's only so much time to go around. There are so many things I want to do with the kids to celebrate Christmas, but the stress of trying to cram too much into a few short weeks isn't worth it. It's important to be realistic about what you can and can't accomplish.
3. Have an Achievable Vision or Goal
When you reflect on the holiday season, what are the important highlights you want to remember? Is it photos in front of the Christmas tree? Is it volunteering as a family? Is it exchanging gifts and celebrating with friends? Is it starting a new tradition? Whatever is most important, do that thing. Make those few things most important and make them happen.
4. Only Do What You Love
Do you hate making Christmas cookies? Then scratch them off the to-do list. Only give your time to what makes the holiday season special for you. Every family has different traditions for a reason; different people enjoy different things. You don't have to do anything. Only do what you would miss if you didn't include it.
5. Be Purposeful
It's so easy to get wrapped up in the over marketing and materialism of the holidays. It's nearly impossible to avoid. Choose to be purposeful with this season and don't let how other people celebrate distract you from your purpose.
6. Adjust Your Schedule
I hate shopping when everyone else is. As a result, I don't go to malls between Thanksgiving and Christmas. A friend decided she'll only go shopping in the morning, before the crowds. Adjust your schedule so that when you do run errands, you'll be doing it in a quieter, less stressful environment. Or go shopping online. Best invention ever.
7. Be Intentional About Seeking Rest
If you're not careful, by the time January rolls around, you'll need to hibernate to catch up on all the rest you've lost during the holidays. Build downtime into your schedule so you're not feeling ragged before Christmas and New Years even arrive.
8. Do Non-Holiday Things
Just because there are many holidays this time of year doesn't mean your activities have to be centered around them. Take a break and enjoy a long walk outside. Read a book by the fire or take a bubble bath. Whatever recharges your batteries, do it.
9. Choose To Enjoy It
Regardless of what holidays you do or don't celebrate, this is a special time of year. Decide to enjoy it.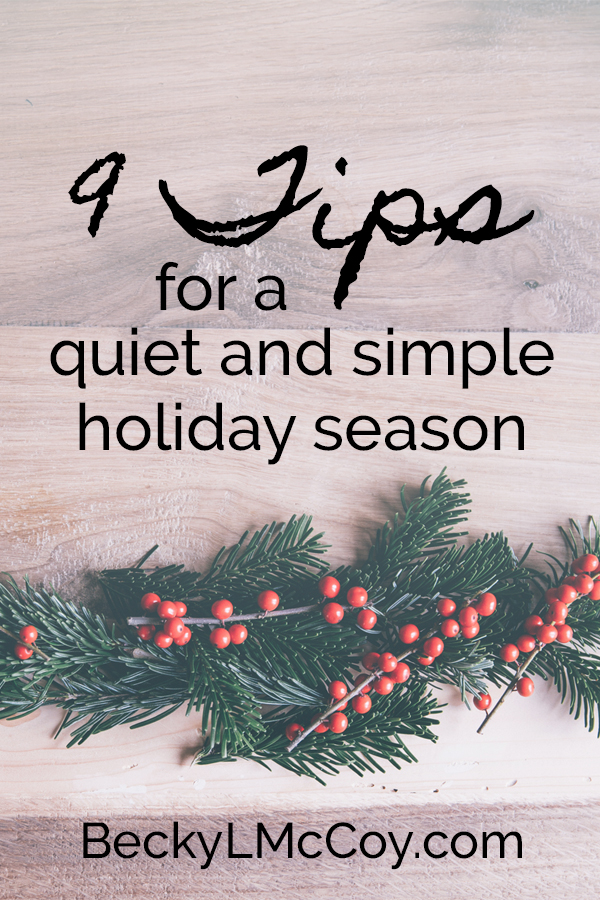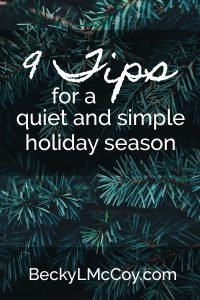 ✕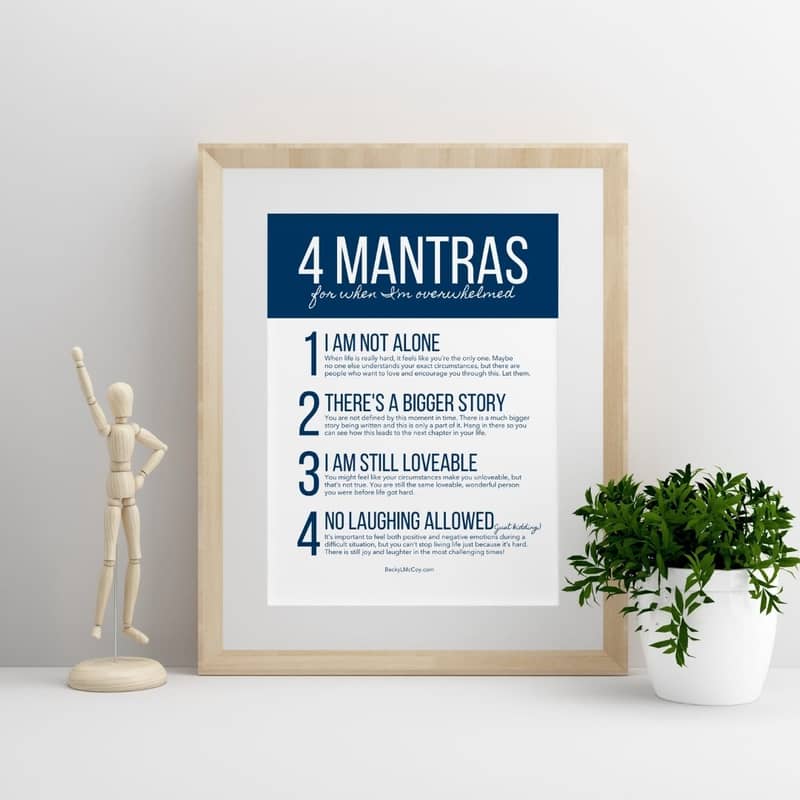 Get 4 Mantras For When I'm Overwhelmed