Good Things Are Scary; Disappointment is Comfortable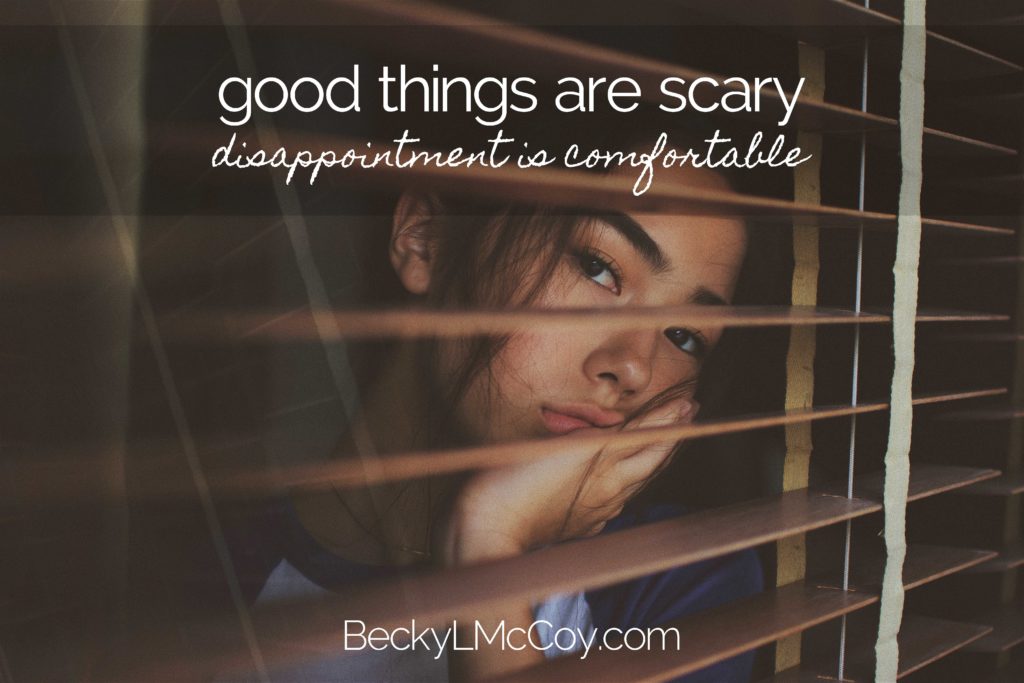 I have a very serious fear of good things happening to me.
You laugh, but I'm dead serious.
I have a few really big dreams that feel completely impossible and I have no idea how (or if) they'll ever work out. And so when some of these dreams started inching forward last week, I had a gigantic, week-long freak out. As people counseled me to continue to pray about these things and trust that God is working out the details, I was near tears, and panicking:
WHAT IF GOD SAYS YES?!
I've spent so many years disappointed, that it's become comfortable. I'm used to adjusting my expectations and being content with whatever life looks like at the moment. Anything more than that feels like extravagance. All that goodness is too overwhelming. I don't know what to do with myself.
And so, I'm terrified of my dreams coming true.
I'm guessing this is more common than we are willing to admit.
What if this year's dream come true becomes next year's disappointment?
What if that new relationship ends in a breakup?
What if that job ends up being a terrible fit?
What if the life altering decision you'd been waiting for comes and goes and you're still not sure it was the right thing to do?
See what I mean?
Disappointment is comfortable because, at the very least, it's familiar. It feels yucky and often makes me really angry. I don't like being disappointed, but I've become accustomed to it.
And I hate that.
Instead of looking at the progress and the excitement, I'm worried about letting go of mediocre things. Instead of cheering God on as he fits all the pieces together, I'm sitting here trying to convince him not to do the puzzle at all because a piece is probably missing.
I'm convinced God rolls his eyes at me several times a day (does God even have eyes? These are the things that keep me up at night). But he is kind and lets me freak out and then shows me how very wrong I was.
For example, right after Keith died, I told God that we would ABSOLUTELY NOT UNDER ANY CIRCUMSTANCES MOVING CLOSER TO FAMILY BECAUSE I WAS GOING TO LIVE AND DIE IN WASHINGTON D.C. AND I'D NEVER FIND A CHURCH AND FRIENDS THAT FELT THAT MUCH LIKE FAMILY AND EVEN IF I DO MOVE I AM NOT GOING TO LIKE IT.
So there.
(If this is making you nervous, just know that God is 100% comfortable with my sass and your sass and appreciates our honesty more than we'll ever know).
So then we moved back to Connecticut. And I'm sure God smirked and looked at all the celestial beings and said, "watch this."
And the perfect house practically dropped in my lap.
And I found friends I couldn't imagine living without.
And we joined a church that is one of the most sincere and encouraging and willing to get into the messiest parts of life communities I've ever been part of.
Okay, God, I see what you did there.
I get so wrapped up in avoiding the possibility of future disappointment, that I also avoid the possibility of all the wonderful things, too.
The idea of actually getting the things I've asked for still terrifies me. It's risky.
What if I'm not ready?
What if I was wrong?
What if I'm disappointed again?
I'm learning to reframe how I react to scary good things.
What if I'm not ready for this good thing? So what if I'm not? That doesn't make it any less good. And I'm pretty sure I'll figure out how to celebrate and adapt and be encouraged.
What if I was wrong and I don't really want this thing anymore? I'm not sure where in my life I developed the notion that all decisions are permanent. Very few are. If I realize I'm heading in the wrong direction, I can change course. It might not be easy, but it's always an option.
What if I'm disappointed again? Nothing I can do about this one. Disappointment is a part of life. I'm not a pessimist, I am just realizing that there's a difference between disappointment and devastation.
Am I still scared of all the change that comes with answered prayers?
You betcha!
Will I let the fear of good things keep me from chasing after my dreams?
Not in a million years.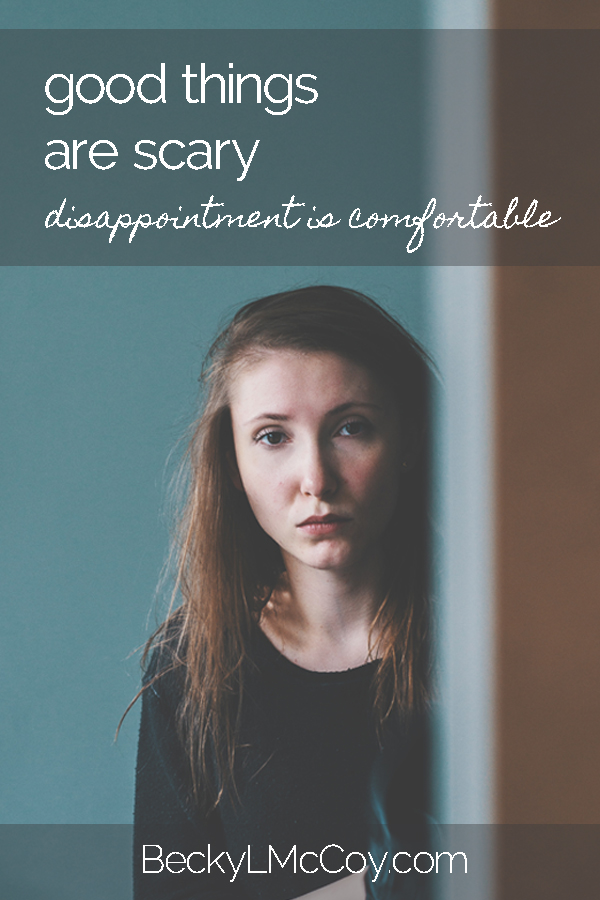 ✕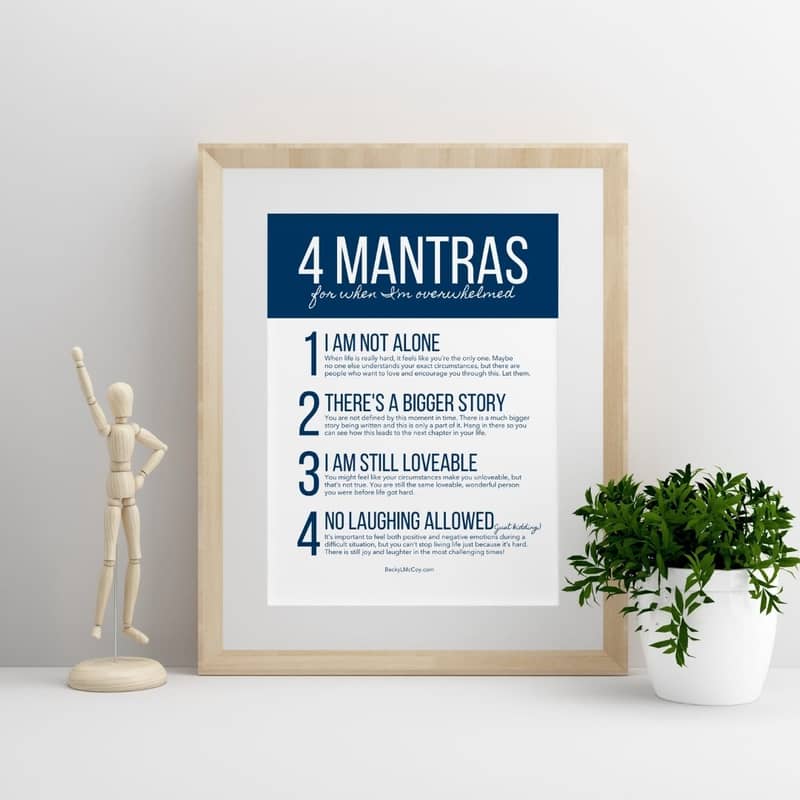 Get 4 Mantras For When I'm Overwhelmed